Mobile apps have finished a strong decade in the otherwise web world. Yes! Mobile apps began creeping into the internet in 2008 and have now successfully completed 10 years of existence. In addition, the demand of these apps is highest in the present times than ever before. If statistics are to be believed, there were 2.6 million Android and 2.2 million iOS apps downloaded by the first quarter or 2019.
Even individual app downloads is skyrocketing as per the popularity of the app. As an example, App Annie has 194 billion app downloads to its credit during 2018, which is much higher than 178 billion in 2017. Well, such flabbergasting numbers of downloads suggest the high end popularity of mobile apps and this trend will rise to greater heights without any diminishing signs.
Statistics suggest download of 2.6 million Android apps and 2.2 million iOS apps by the first quarter of 2019. This huge dependency on mobile apps indicates that companies should create more intuitive apps in the coming future.
Click To Tweet
Mobile apps are using better technologies, tools and marketing strategies to evolve technically as well as financially. One of the technologies that is highly incorporated in mobile app development is Artificial Intelligence. AI has been successful in converting mobile games into more realistic games, which give much higher end user experience.
Similarly different mobile apps are gaining intuitive edge through AI, which makes user interaction more real. By giving a personalized experience, AI improves user retention. This paves way to gathering more data about the user, design effective marketing strategies and create better and custom designed apps for the users. This way, AI pushes mobile app design to another level and ensures better user experience.
According to the reports of International Data Corporation (IDC), the overall amount of investment in AI will rise from $38.5 billion in 2019 to a gigantic amount of $79.2 billion by 2022.
Click To Tweet
Benefits of integrating AI with mobile app development
Chatbots and digital assistants improve customer interaction!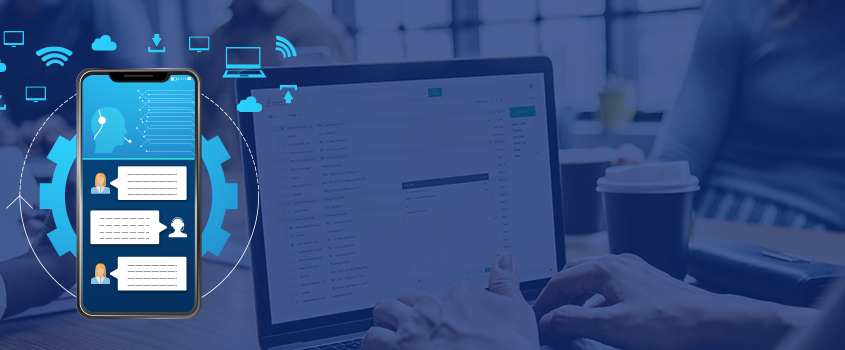 Chatbots are the latest buzz in AI and are highly useful in offering a personalized experience to the customer, visitor, patient or the second person in communication. Mobile apps with this feature has better chances of interacting with the customers, offer them services, products as well as find their choices. By integrating chatbots within mobile apps, companies can create a real-life relation with the customers. This kind of apps tend to be more popular than 'life less' static apps. Hence, AI plays a big role in designing a more interactive and personalized experience for the app user.
These digital assistants boost customer care to another level. In fact, high tech companies like e-bot7 offer hybrid AI solutions that improve the efficiency of any company by 80%. Mobile app developers should leverage AI to create more intuitive apps for their customers.
According to the reports of McKinsey Global Institute, 70% of the companies of the world would adopt any one of the five types AI technologies by 2030. The worldwide AI revenue is estimated to be around $3061 billion by 2024.
Click To Tweet
AI helps to study the data, analyze trends and predict the market!
Experts know for the fact that AI uses a large amount of data to study the working of any business. By collecting huge amounts of data and removing the redundant ones, AI can help create clean data for company. This kind of non-duplicated data can lead to better analysis of the trends, user behavior, market demand and other factors.
It proves valuable in predicting the upcoming demands and market deviation. Therefore, a company's mobile app becomes a store house of relevant data, which can be utilized to create better marketing strategy. It also helps in improving products and services to survive in the market. Moreover, company's brand image can be enhanced with the help of AI induced mobile apps.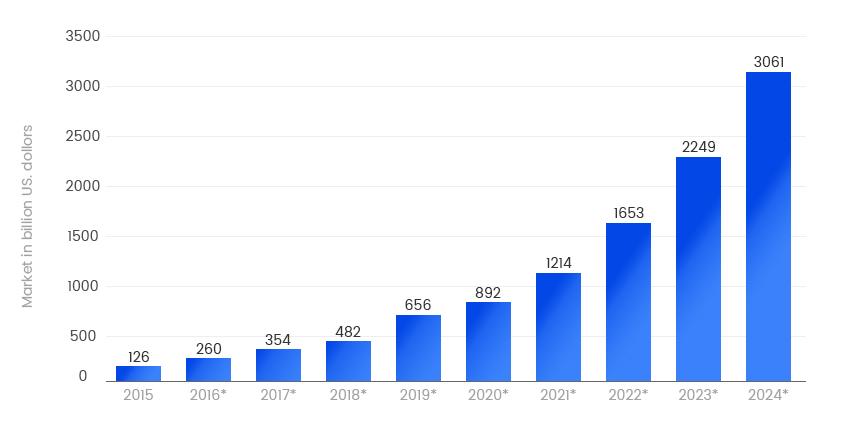 Image source: https://zenbit.tech/
AI helps create more secure apps!
eCommerce stores are at the maximum risk of cyber attacks due to the transfer of monetary information from the clients. With the use of AI, mobile developers can create far more secure apps. Encrypted form of data transfer, multiple authentication checks, a array of recognition types and more facilities can be merged into an app with the help of AI. Techniques like crypto currency are much in demand and developers can implement them with the help of AI.
AI enhances the search process!
Searching anything on mobile can become easy when search engine or app is incorporated with AI features. AI offers auto correction of spellings, add voice search, apply suggestions and do a hell lot of other tasks for the user. Mobile developers can encash this aspect of AI to design more intuitive and interactive apps for the users. For example, Ford has partnered with Amazon to integrate Alexa in their car design. With this, a driver can listen to audio books, songs, calls and other things while on the go. Therefore, when such technology is used in apps, it improves the user experience by a manifold times.
AI offers better experience with Internet of Things!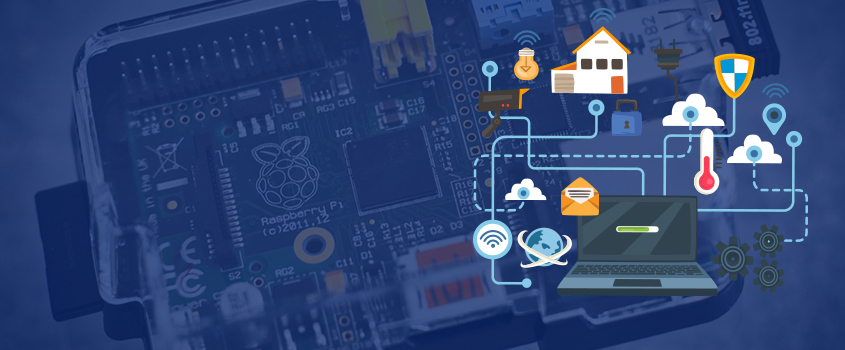 Wearable devices are another arena where mobile app developers get to offer innovative applications. Smart watches, fitness devices, health monitors are increasingly becoming a part of our routine life. When AI is incorporated with these IoT devices, they offer better facilities to the users. For example, a doctor can communicate with his/her patient with the help of a virtual assistant. This helps avoid emergencies and offer immediate patient care. Even music apps when integrated with Google Assistant can help create better song lists with the help of AI. Similarly integrating AI based smart devices within an enterprise can improve its function like never before.
Conclusion
Few of the uses of AI in mobile app development and this just rekindles the fact that Artificial Intelligence is going to be the next big thing in mobile world. If used well, it has the caliber to create unparalleled apps for the tech savvy customers.
There are numerous technological advancements on a daily basis and we share the latest updates with you here. We shall add more to this knowledge pool in a short while. Keep reading this corner to get more details about latest technical advancements.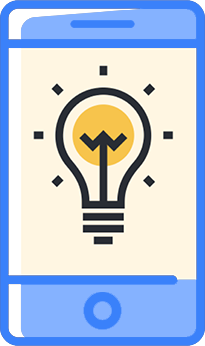 Have an Idea?
Mobile App development is the need of the hour for businesses of all nature and so we are just a click away, our team of well trained engineers could assist you proving prompt help anytime you require it.
Contact Us
or
Email Us
Top five ways in which Artificial Intelligence enhance mobile app design and development. Check how integrating AI can improve an app's performance as well as popularity by a huge margin.
Click To Tweet