As an entrepreneur, what is the first question you will ask your app development team?
The most obvious answer for this is an app development cost. Yes, the app development cost plays a significant role in the app development process. A simple answer to this question is, "it depends." However, it creates more confusion than providing a solution, doesn't it?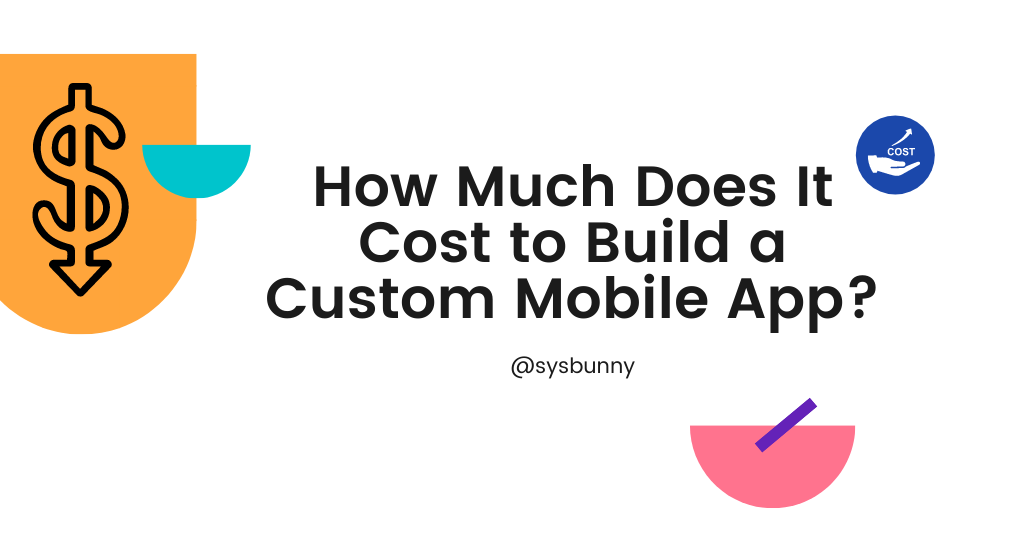 Let me simplify this for you.
As we know, everything comes with a price. Building your mobile business app is no exception. App development cost depends on so many factors, such as size, the complexity of the app, platform, the team you are choosing, and many more.
Each mobile app development company has its own price listing. Additionally, the app development cost varies from country to county. For example, Canada and United States charge more for app development than India.
This article will break down each factor affecting app development cost and help you understand and determine your app development budget.
Factors that affect app development cost
Here are a few important factors that impact app development costs.
App infrastructure services, such as servers, hosting, and domains.
Databases used for data storage, such as user data, photo, and video content.
Assembling back-end infrastructure
API and third-party service integration, such as payments, maps, and analytics.
Required development tools and libraries
Data encryption to transfer data
Regular app updates and bug fixes
Video or audio streaming functionality
Let's understand some of the factors in-depth to get a better idea.
In-house team vs. Outsourcing
When you decide to develop your mobile business app, you have two options for the app development team. The first is an in-house team, and the second one is hiring an outsourcing team. Well, both of these options are good, considering each has its pros and cons.
However, going with an outsourcing team is more beneficial than an in-house team. The in-house team has one of the biggest communication advantages. But, other than that, they do not offer much.
Due to the Covid-19 pandemic, the majority of companies have opted for working from home. It doesn't matter where your team is as long as they are skilled and you can smoothly communicate with them. It may be a bit difficult if your team is in a different time zone, but once you figure out the appropriate time, you can easily build communication and keep track of your development process.
You can hire an outsourcing team within your budget. Also, hiring a foreign team is more cost-effective than the local team, as we mentioned before, the app development cost varies from region to region.
Android vs. iOS
Choosing the platform for your mobile app also impacts your development cost. You need to determine your audience in order to finalize your app platform. Android has a larger market share compared to iOS devices. However, the majority of developed nations have more iOS devices. Thus, you need to figure out your audience and select your app development platform.
Choosing one platform won't make any difference in development costs. But, if you decide to launch your app on both platforms, it may cost you more.
Simple features vs. Complex features
Depends on the nature of your app, it may require simple or complex features. Usually, simple apps require 2-3 months to develop, and complex apps can take up to 8-12 months to develop. The cost of an app also depends on its complexity.
Let's dive into each feature to get more details.
Key features
User registration is one of the fundamental app features. It allows registered users to have access to extra features and necessary information.
App navigation allows you to map out user activity throughout the entire app. It helps businesses to send notifications to the users to complete their journey. For example, the app can send a notification to the customer regarding the incomplete purchase.
Your app navigation should be easy to follow, thus it requires brainstorming before starting the development process.
The majority of mobile applications use push notifications to share real-time updates with their customers. You can either send a simple text notification or attach any image with it. However, ensure that your notifications are reaching the right people.
It is essential to have high-quality media in your mobile app. Depending on your niche, you need to implement a few filters, effects, emojis, etc.
It is an essential feature if you have a cab rental, Airbnb, and food delivery app. It allows users to easily find the shop and track their deliveries.
The cost of the streaming app depends on the features, such as downloadable files and save and record. Also, it depends on the audio and video formats of the files.
Your eCommerce app requires numerous features, such as payment gateways, email subscriptions, etc. But they are pretty common, so it doesn't require much effort and cost.
Security and data encryption
Nowadays, cyber-attacks have become pretty common. According to Statista, a total of 304 million malware attacks happened in 2020. Therefore, it is essential to implement the necessary data encryption.
App development cost for each phase
App development has five phases, and each of them requires different time and cost as per their size. Knowing their significance will help you understand and finalize your monetizing strategies.
Let's start.
Business Analysis
Once you finalize your business idea, you need to run it through the market analysis. By doing this, you can determine the verification process and gather all the required documents. The app development team needs to do thorough research to get an accurate app development quote.
Usually, business analysis costs somewhere around $1,200 to $11,000 and can take up to 10% of the total app development cost.
App Designing
You can grab the attention of numerous potential visitors with your unique app design to impress them. A unique app design will get your customers hooked on your mobile application. However, your app design should be simple yet eye-catching so that your users can easily navigate their way through.
An app designing may cost you from $2,500 to $10,000. Complex app designs may cost up to $25,000.
Project Management Fees
Project management requires more time, and it has a direct impact on its cost. The project manager usually deals with project budget, work scope, schedule, quality, resources, risk, communication, and problem-solving. The cost of the project varies from company to company. For example, some companies take hourly charges while some take monthly.
Ideally, the project management cost starts from $7000, and depending on the project complexity, it can reach up to $35,000.
Quality Assurance
No app development is ideal. Every application faces bugs at least at one point. That's why app testing is a very important phase in app development. Testing at each phase will reduce the efforts and cost. App testing consists of three main goals.
Ensure the app will work under all circumstances
App meets all the necessary requirements
Provide the current development progress details
Having a QA test your app will reduce the potential risks by finding out the loopholes and ensure that your app will work seamlessly after the launch. A QA engineer gathers the requirements, plans and discusses the tests, develops and executes the test, and forms a summary report.
As you can see, quality assurance requires a lot of work, therefore it does costs a bit more. Usually, it cost in-between $5,000 to $25,000.
App Launch Cost
The app launch cost depends on the platform you chose. The Apple Store generally charges $99 annually, while Google Play Store charges a one-time fee of $25. Also, you need to legalize your app. It may cost you a few extra bucks.
App Maintenance Cost
Once you have developed and launched your app, you need to maintain your mobile app constantly. App maintenances are unavoidable even if you don't want to add new features. It takes up to approximately 15-20% of the total app development cost.
Hosting
Your hosting cost depends on the type of data your mobile app use. Amazon AWS, Microsoft Azure, and Google Cloud are a few examples of web hosting solutions. If your app consists of a lot of media, you may need a higher CPU webserver with more RAM. An app hosting web server costs in-between $70 to $300 per month.
Monitoring
To keep your app on the path to success, you need to supervise your app performance constantly. App monitoring costs depend on the audience types and the number of users, and it fluctuates from company to company.
Engagement and Marketing
App marketing cost relies on many factors, such as audience base, installation price, etc. Additionally, it depends on the user's country. Just like app development, app marketing costs are different in each country.
Updates
Users get bored of the same app after sometimes, therefore to keep them engaged with the app, developers release frequent updates. Updating your mobile app doesn't require you to go through the whole app development process. Nevertheless, application update costs and time depend on the app's complexity.
License
Each mobile app requires a license for the used technology. A license fee usually depends on the number of devices. For example, it may charge up to $120 for 50 devices annually.
Total Cost
The total cost of app development is the sum of each element of the app development. For example, a simple mobile app can cost approximately $70,000 and can take up to 4 months to get developed. A medium app takes 6 months and costs around $120,000. Finally, a complex app can take up to $200,000 and takes 10-12 months to get developed.