If we spend a hefty amount of money, time, and resources behind the app development and targeting the wrong audience, then return will meager in amount and leads to app failure. Therefore, smart clients and developers always emphasis on target audience research before stepping into actual designing or programming process of your app project and assure the success at the end.
Introduction:
We are a big team of mobile app developers at SysBunny. We used to create mobile applications for a range of industry and categories found in app marketplaces.
Why Should You Recognize Your App Audience?
We have experienced that most clients approach us for app development projects hardly know their targeted audience. They used to go on assumption base. For instance, for a healthcare app, they consider the entire healthcare industry including doctors, nurses, hospitals, clinics, pharmacies, emergency services, the fitness industry, equipment manufacturers, infrastructure & service providers, and much more.
It makes our task complex because we used to create user persona before planning app and development process.
We have to decide features and functionality for the app, which greatly depend on target audience or user persona.
We have to add/integrate third-party services like location detection, cloud computing, transactions, and web services to meet the advanced needs of users.
We have to offer personalized experiences in the app, easy and smooth in-app search experiences, secure and safe transaction experiences, and a lot in-line of user experiences to win the battle in the fiercely competitive market.
In short, you can know various user factors and user KPIs of your app target audiences such as:
User Factors:
User Demographics
User Locations
User Behavior
User Devices
User KPIs to Track:
User Acquisition
Average Revenue per User
User Retention Rate
User Session Length
How Identifying Your App Target Audience Help You?
Thus, if you identify your target audience accurately and correctly,
You can understand user requirements, their interests, and reasons behind their behavior.
You can identify that which features and functionality need to include or exclude in your app to get maximum ROI.
You can decide that which APIs need to integrate and call the services to meet the ends of user needs.
You can decide how to offer personalized experiences in cost-efficient ways.
You can improve your chances to win the favor of actual audience that can reward you accurately and in the long run.
You can prepare mobile app marketing strategy to reach the target audience efficiently and cost-effectively.
You can prepare app monetization strategy according to your target audience.
You can design UI and UX according to target audience factors & KPIs.
Finally, provide something exclusive and innovative that your target audience will love.
These are common benefits I have described here, and my team of mobile application developer can give your personalized and detail lists of benefits for your app exclusively. Just run an inquiry!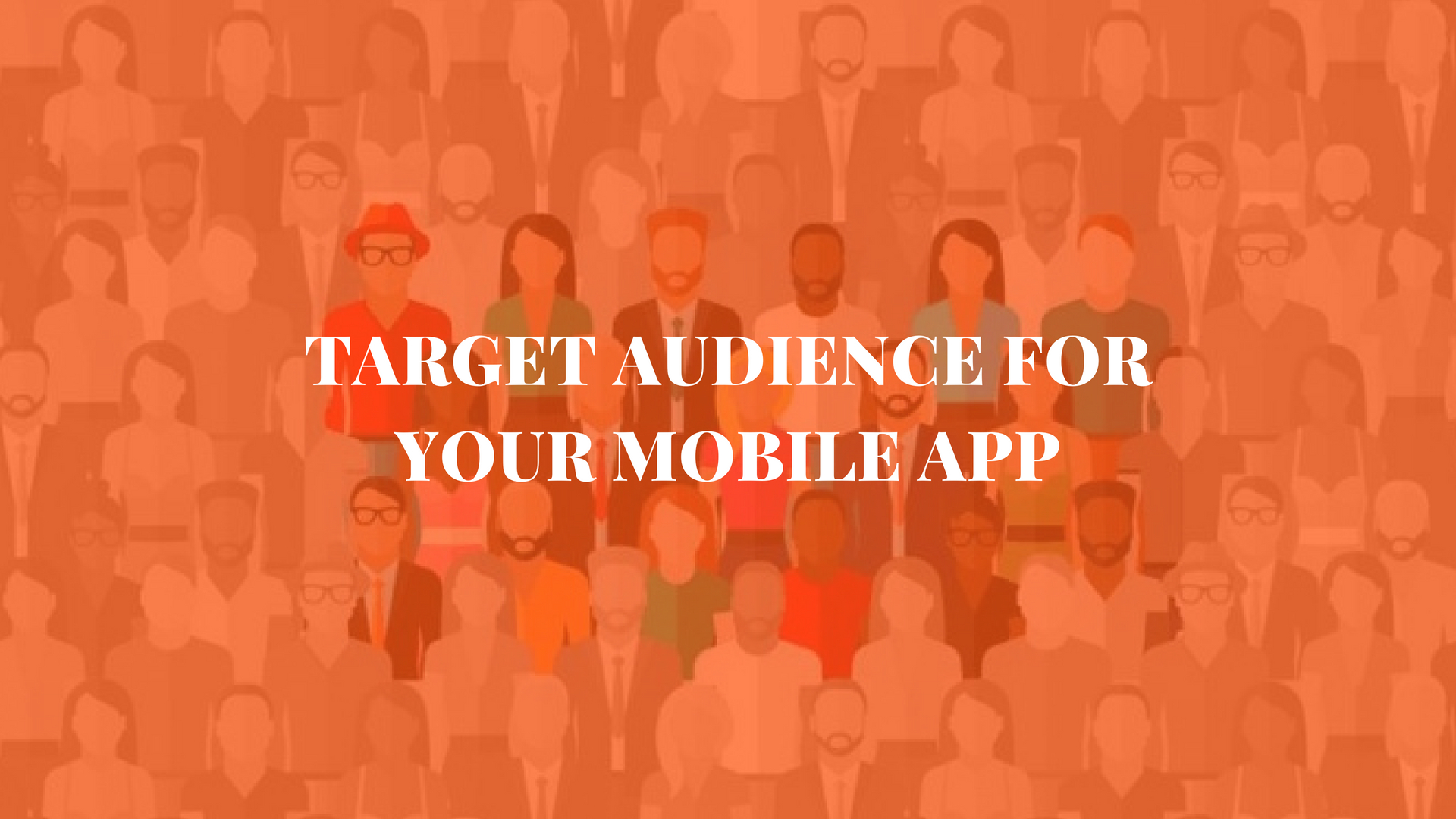 How to Identify Your App Target Audience?
It indeed a vital question. In due course, we can take two approaches.
Assumptions Based On General Understanding
The first is by general understanding such as based on the app category. For instance, your app is related to testing hormones during ovulation period then all women would be your target audience. It is true that you cannot go by assumptions based on general understandings to decide app audience. It is because many apps fall into the general category and many have a far wide market that makes an accurate assumption of the target audience difficult and may prove faulty.
Based On Secondary Market Research
Secondary market research involves multiple approaches, such as:
Competition Research
Audience Surveys
Hiring services of audience research agencies
Let's check each option in detail.
Know Your Competitors' Audience
If your app idea belongs to a category where known competitors exist with their apps, your audience research work becomes quite easy. Today we have powerful competition analytics tools that let you know the audience of your competitors and what offerings they have provided in their apps including features, functions, and integrations. In this regard, you can go for SWOT (Strength-Weakness-Opportunity-Threats) analysis too.
Carrying Audience Surveys
If your audience is unknown or assumption based, you can go to carry out online, in-app, or real world (F2F) surveys. In due course, online landing page, social media surveys, and other methods can help you to identify your real audience with its required factors and KPIs gave earlier in this post. The next thing is to use the combination of survey and interactive prototypes of your app because today many tools help you to develop interactive prototypes that help you get attention towards the survey interface as well as give you likes and dislikes of your targeted audience at a glance. The excellent thing is to create MVP of your app idea and handover to surveying team to collect actual feedback of real audience and know their preferences in advance to offer excellent personalization experiences in the final or iterative version of your app.
Hiring Services of Audience Research Agencies
Several marketing agencies are working for specific audience research niche online and offline. You must find out the most suitable one and hire it to carry out detailed user research for your app. They will provide you a detailed report that describes segments of your target audience fully and also provide a study of behavior, preferences, and other attributes of target audience describe here.
What Will You Look To Identify Your Audience?
We already have answered the same, and that is audience factors and audience KPIs. Let's explore all further.
User Factors:
Demographics:
Age, gender, income, occupation, education, children, and language preferences are vital parameters, which describing demographics of the targeted audience and help app developers to create user persona.
Location/Geography:
In fact, location is a part of user demography, but we treat especially apart from it because today various location-based services and integrations required extreme details of the location like region, country, state, city, zip code, and GPS data (Altitude/Latitude) and much more.
Behavior:
In-app behavior is measurable via various analytics apps/services, and you can carry it to know various user KIPs like engagements of users with your app/prototype/MVP and can carry attribution analytics to gain granular insights.
Mobile Devices:
Different economic strata of your audience use different category of devices regarding manufacturers, models, and OS. Based on your app category you can decide how affluent your audience is and which mobile devices you have to target during UI and UX designing.
User KPIs:
User Acquisition:
It describes how users can acquire access to your apps like organic or paid search on the web or in-app referral schemes you have propagated.
Average Revenue per User:
What much revenue you can earn from the app directly or indirectly.
User Retention Rate:
How long you can engage your app users through various techniques and tempt them to download your app, install it, and reach your conversion goals.
User Session Length:
Session length indicates that how much time you have spent in the app. First-time users and repeated users differ in session length.
Conclusion:
Based on the entire discussion, you might have noticed that identifying app target audience is not a simple thing that anyone can do DIY basis. You must have equipped and experienced team of app designers and developers who can holistically carry audience research and bring highly useful results that can return high for a long duration of your custom mobile apps lifecycle. SysBunny has an unbeatable team of app developers who can help you exclusively in this regard and cost-effective packages. Would you like to talk the team?