Social media is abuzz today, and mobile app marketers tempt to leverage it for an effective marketing their apps. Social media influencer marketing is highly rewarding and cost-efficient techniques to promote your app organically and through viral marketing tactics. You must know and learn how to achieve desired success using social media influencer marketing to get best ROI.
Introduction:
Mobile app marketing is a bit tricky thing. There are numerous ways to do app marketing and enough to confuse any marketer. However, the statistic can help app marketer to take the right approach and pick right channel of marketing to gain maximum ROI.
Paid Ads Marketing
Yesterday, paid ads online and in-app were considered the most beneficial channel. Of course, with the pace of time people have realized that celebrities appear in the ads are not giving true opinions for products and promoters are paying them to do so. It has diluted the impacts of ads on various channels including web, mobile, TV, and video ads. Today, most of the people spent their time on the web or mobile apps using mobile devices. Social media is a buzz in the market, and a number of social channels are capable of influencing the buying or downloading app decision in a great way. Let's check the recent statistic say about influencing factors on buying decision.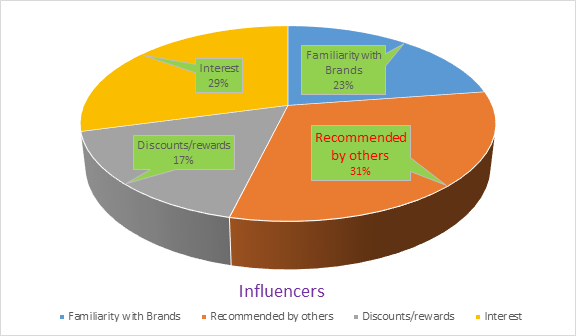 The chart reveals one thing obviously, and it is "Recommendations by Others" has the most weight among the all influencing factors. Now, take a grain of salt, the following two things are influencing the app buying or downloading decisions the most.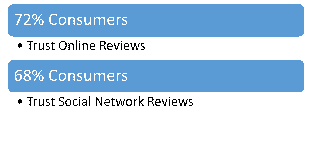 Online reviews and social network are obvious winners here. It is true that online reviews sites are not always transparent and dependable in comparison to social media sites like Facebook, Twitter, Instagram, and now WhatsApp. Of course, WhatsApp is a chat application, but it is a buzz today.
How Social Media Influencers Work?
Social media is a voluntary gathering, and real people participate on the platforms. Therefore, sheer transparency is guaranteed here. Just like in real world, a few people influence a big mob of people about their perspectives, opinions, or experiences they have for a product or services or an organization/company/brand itself. If you achieve success in obtaining positive review of that handful of influencers on the social media, you can get the immediate attention of many social media influencers and their followers. Thus, followers of those social media influencers will buy or download your mobile application and would like to share their experiences on various social platforms and create a chain of positive reactions.
How Social Media Influencer Marketing Benefits Your App?
When we compare the social media influencer marketing techniques with other traditional app marketing tactics, we can see following key differentiators.
Cost of App Marketing
It is the biggest detrimental factor that leads app marketers to think of social media influence marketing against rests of traditional marketing techniques. For instance, in paid ads on social media, you have to allocate a big budget as well as a staff to run a campaign for a certain period. In the case of social networking influencer marketing, you need only skilled staff in small numbers to constantly watch the social media campaign and research to find the influencers and techniques to woo them on your social accounts. You need to run messaging or email campaign to acknowledge your social influencers regarding your app development progress, release date, app features, and offer alpha, beta, and other testing versions to create their opinions and positive attitudes with feedback requesting techniques.
The credibility of App Marketing
As we have discussed earlier that celebrities have paid for the promotion of your brand, product, or service, so people have less trust in their opinions or experiences. In the case of social media influencer, they are completely independent, and neutral entities exist on the web and get nothing from the brands or companies when they opined for something. They may be experts, social leaders, bloggers, journalists, or politicians and have some weight in the society, localities, or communities they belong to it.
Reach of App Marketing
Traditional app marketing techniques have limited reach and exert momentum effects while social influencers leave ripple effects in the market that lasts for longer. Today most social networks are universal with a worldwide audience. Thus, your app marketing message can break cross-countries and cross-culture barriers easily and send your message far-flung that you hardly can imagine.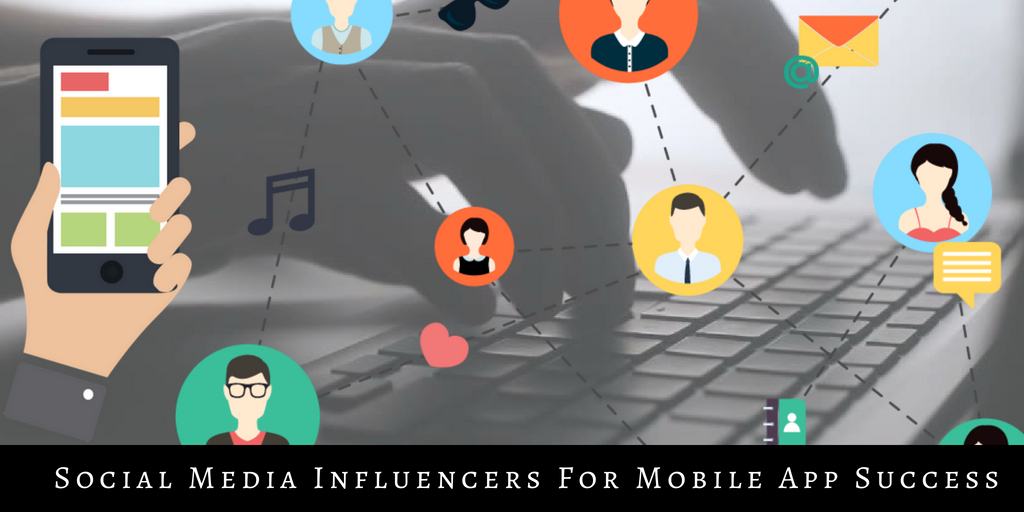 How to Do Social Media Influencers Marketing?
Using social media influencers for your app marketing is not easy as you think. It is something more than doing standard social media campaigns. You have to recognize the social media influencers relevant to your app niche, your target audience, and your app goals. It is because social media influencers have to reach up to their expertise or the community they belong to, so they can influence the social media audience only belong to their relevant group. The first and foremost requirement to attract the highest numbers of social media influencers ease their tasks, you must have a high-quality app in all aspects like usability, user experiences, performance, design, and relevancy with your niche market. Your app must have a great demand in your niche and among the targeted audience. If your app is unique and has something extra to offer in the niche market, influencers can augment those additional properties of your app. You can offer some tempting but logical incentives to the app social media influencers you can get more favor and more benefits from them. These all make app promotion a bit easy for the influencers. To grab the right lot of influencers, you must have and apply social media analytics tools and run analysis to formulate effective strategies. BuzzSumo, Klear, Klout, Clarity, Google Alerts, BuzzStream, and other tools are great to do effective social media influencer marketing. The last but important thing is the right selection of social media channels so you can grab a vast audience and a number of social media influencers relevant to your app niche or your business.
Conclusion:
As we have discussed before that the fundamental of social media influencer marketing is the quality of the app and your right approaches to woo the right social influencers on right social media. These all need an impeccable team of mobile app developers and social media experts who have adequate experiences and expertise in social media influencer marketing. If you want to shop all on a single window, consider SysBunny and its app development as well as app marketing team a right destination and folks you will love once have encountered.