Mobile applications are dominating the market. Every business, regarding their sizes, have their mobile apps. According to Statista, the number of smartphone users will reach up to 4.3 billion by 2023. Thus, having a mobile app would be beneficial for your business.
However, having an amazing idea isn't enough for app development. Hiring an excellent app developer is essential for every business. If your mobile app development company cannot visualize your idea and won't match your expectations, it is of no use.
Research shows that 23 million people are working in the app development industries, and there are so many criteria you should consider while looking for a mobile app developer. Thus, it is essential to do thorough research before hiring mobile app development company.
This article provides a few tips on how, where, and when to find a suitable app developer for your business.
How to Find an App Developer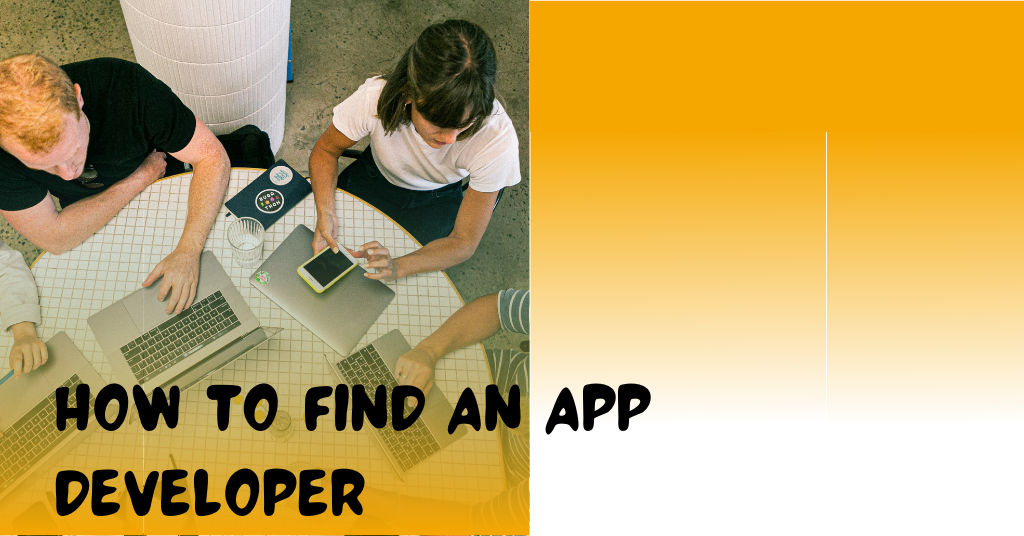 Finding the perfect developer can be hectic. Not all the developers you come across has the same vision as yours. You can find developers in many ways, so no matter which one you choose, it is essential to choose the right one.
Here are a few techniques that will help you find a suitable developer for your project.
Always go through the portfolio
Even though college kids have talent, it is advisable to hire an experienced developer. You don't want someone who hasn't developed a single app yet. Before making a selection, always take a look at their portfolio and see how well they have done with the previous projects. You can get all the required information by simply browsing through their previous projects.
Look at the experience and Culture of the company
Even though it is a crucial aspect of hiring a mobile app developer, many businesses avoid it. You should not make that mistake, as you have to work with them throughout your projects' development. Every developer has a different working environment.
For instance, in some companies, the bosses give orders to their employees, on the other hand, in some companies, each employee can raise their opinions and contribute regarding their post. However, some companies hardly supervise their employees' work.
Thus, even a development company has severe talents, they might not be suitable for you. To find a suitable company, ensure that they are on board with your values, ethics, work methods, expectations, goals, and personality.
Many companies face problems in communication by hiring an outsourcing company or freelancers. They mainly are situated in remote areas or are at the other end of the world. Therefore, you can only contact them via email or teleconference, but it can be hard if you are in a different time zone.
Thus, before hiring a mobile app development service, ensure that these factors don't sabotage your communication. It's beneficial if you get the mobile app developer from the same time zone or fix a convenient time for both of you.
Ensure that your communication is transparent, as your team is giving you timely updates about your project.
Define Your Business Requirements
Before hiring a mobile app developer, consider which team you want to go with? Outsourcing or in-house development team. Learn about the pros and cons of both outsourcing and in-house teams.
Another question arises, as to which companies you should go for, freelancers or a company?
The answer depends on at which point you can handle the development process of your project.
Use criteria to judge a developer
It is essential to set a few criteria before selecting an app developer services, such as reviews, references, speciality, programming tools, development process, project management, communication, and more.
Also, talk with the team. Interview the members, as you'll be working with them. An excellent portfolio won't matter if your developer is tough to deal with. Knowing their flaws and characteristics will help you avoid unnecessary arguments and clutters.
Determine Their Development Approach
Different teams have different work tactics. The SDLC- software development life cycle is the way of dividing and organizing the work to make the process stress-free. Finding the developer whose work methods match yours will make the whole interaction easy.
Where to Find an App Developer?
In the beginning, every newcomer has difficulty finding a suitable developer. You may have the perfect app idea, but don't know any developers. Experienced developers are difficult to find, especially those who match your vision and have the same work ethic.
Here are a few channels that will help you find a suitable developer for your project.
Elance, Odesk, Toptal, and Hired are some of the Freelance resources. They help you find a suitable freelancer at a reasonable price. However, do not rely on freelancers for the whole app development, as you'll need a whole team if you want to add the updates. You can use freelancers to draft the project, it will catch the interest of local developers while showing your commitment to developing the app.
Blogs are an excellent way of finding IOS app developer. They have detailed articles about app development. Thus, you get the basic knowledge as well as the links to find a developer.
Designers and developers upload the portfolios of their work on online communities. You can easily check out everyone and select the suitable one.
B2B directories have information, ratings, and reviews. Thus, always look for B2B directories while checking out the developers.
Colleges are the perfect hotspot to find an aspiring developer. The best way to find the students is to directly reach out to them or get in touch with the professors. Hiring the students is cost-efficient, but it is important to note that you'll have to be flexible about the timeline, as they have to focus on their studies as well.
Don't overlook your own networks. Interacting with your friends might help you enhance your ideas and find a suitable developer.
Well, Google can find anything. But the only drawback with Google is that you have to be extremely cautious and thoroughly examine all the developers you come across. Always cross-check all the references you find and make the decision.
When to Find an App Developer?
You can easily start looking for a Android app developer once you have finished all the research regarding your concept. After some time, you can easily identify your target market's problems, and you can develop your app regarding that.   
Once you get all the ideas, you can eliminate them based on practicality and put together a rough blueprint of how your app will look like. After this, you may start finding a developer.
As we know, finding a suitable developer can be challenging, but after a thorough examination and consideration, you can easily find the developer that matches you on many levels.
Conclusion
Mobile apps are the pillars of your business. You can hire a mobile app developer by simply telling them about your business requirements and guide them throughout the process. As we know, there are so many factors you should keep in mind before hiring an app development service, but thorough research will guide you straight forward to your required developer.
This article highlights all the important aspects of hiring an app developer, hopefully, it will guide you in the right direction and help you choose the right one.