Introduction:
A few years ago, if we wanted something we would have to physically procure it for ourselves. Fast forward to today, all our needs can be fulfilled in a few clicks, applications have made life easier. These technological advancements used to be a luxury at one point, now it is simply a necessity. Every app serves a purpose and with increasing population and globalization, individuals seem to have various new demands and there is a requirement for applications to cater to these demands in whatever way possible.
Each and every Mobile App Development Company can now focus on creating new apps according to the growing demands in the market so when they are introduced they would be lapped up by the users and would turn out to be an immediate hit amongst the people. These on demand applications reduce the efforts put in by a consumer and makes life easier for them. The market for such on demand apps is booming as there seems to be an application for each and every need of yours.
"As per the economist's prediction, the mobile app economy is expected to reach $6.3 Trillion by 2021."
Click To Tweet
The on-demand mobile applications have assumed a critical job in user's life based on their interest, speedy access and comfort. These applications have witnessed tremendous growth off late with useful on demand mobile applications like food delivery applications, taxi/ride sharing applications, fashion applications, fitness and healthcare related applications and so on.
Since the time that on demand mobile applications were introduced into the daily lives of clients, they have opened up a whole new market. These apps have not just made life easier, they have also contributed towards increasing the revenue generated and profits each year.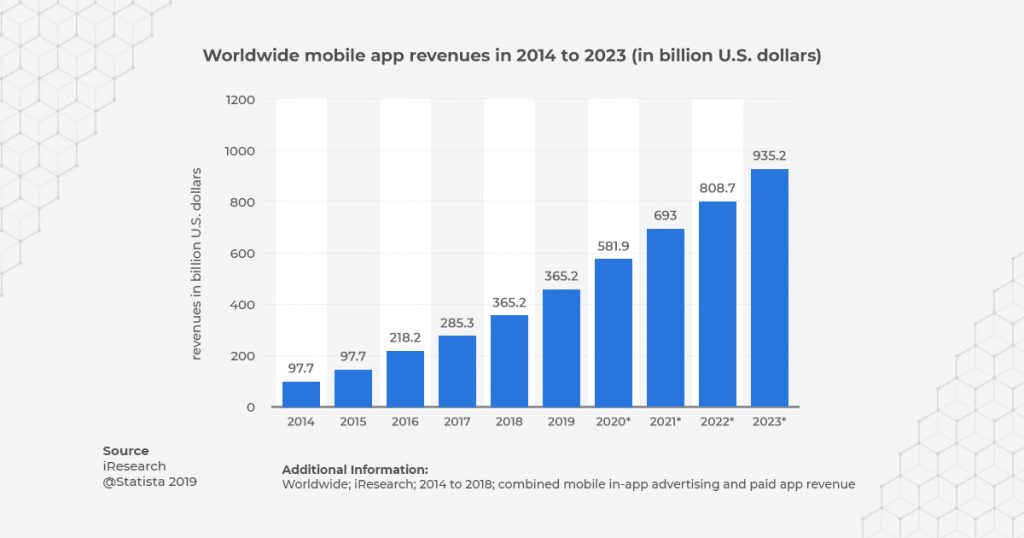 The mobile app industry looks like an unstoppable and generated market valuation of $57 Billion at the recent time. As per the economist's prediction, the mobile app economy is expected to reach $6.3 Trillion by 2021. This leads to an opportunity for Mobile App Development Companies, startups and other organizations to venture into this growing market. The mobile app industry increases the business visibility and also improves the client-customer interactions eventually contributing to goodwill for the business.
"In 2018, global mobile app revenues amounted to over 365 billion U.S. dollars. In 2023, mobile apps are projected to generate more than 935 billion U.S. dollars in revenues via paid downloads and in-app advertising."
Click To Tweet
As a startup app development Company, after gaining all the required information about on-demand mobile application, you can definitely consider designing your very own on-demand application to serve the masses and make their lives simpler. If you are highly uncertain whether you should create an on-demand mobile application for your new business, here are a few things you can consider.
1.On-Demand Taxi/Cab Ride Sharing App Like Uber
The on-demand economy has rapidly gained control over the mobile industry business. All the on-request taxi/taxi ride sharing application have totally modified the network patterns. In a world where everybody looks for quick solutions, nobody wants to spend more time then needed in doing a task. In an era when there is no time to waste, the vehicle industry got an opening for many new opportunities in the market. You can select an application that is similar to Uber or decide to create a new application that you wish to launch in the market.
The vehicle business is widespread and offers plenty of opportunities. You can think of designing cargo logistics apps, cab riding apps, truck apps, e-scooter apps or bicycle apps. People have to travel from one destination to another on a daily basis and every individual requires comfort and hence access to transport becomes necessary. With the help of such user friendly apps it becomes very easy and pocket-friendly for people to afford comfortable transport facility. With the help of your on-demand app like Uber, you may come up with similar new app with a few different features that attract the consumers.
2. On-Demand Food Delivery Apps
Human beings survive on food, it is a primary need of an individual and providing affordable, wholesome meals with the help of a coordinated application solves the food problems that people face. If food is available only a click away then there is nothing better than that.
A few people work and some do not know how to cook and such food delivery apps help you get food on time at your mentioned address so you can have a satisfactory meal and continue with your other daily activities. These days, street side food vendors and fine dine restaurants everyone is on these online applications and designing more such apps will help provide food to a wider audience quickly and would also boost the food industry.
3. On-Demand Self Grooming, Fitness, & Health Apps
Every individual is concerned about his/her health and mental well-being. These on-demand fitness apps serve various purposes. A few of them help track our sleep cycle, female body cycle and patterns that is necessary to be monitored as any imbalance would lead to sickness. There are also a few apps that prescribe medicine according to the illness and even remind you to follow a strict diet keeping a check on the calorie intake in every meal you eat.
Some applications help you record your daily activities, how many steps you took and the exercises you performed in order to help you stay fit. These apps also let you do exercises sitting at home, so you can save time and money and stay fit nevertheless.
Self-grooming can also be considered as a part of health and if a person is looking to get spa service or beauty care they can also log on to apps that provide such services at your doorstep. The health and fitness industry is also very vast you can enter this industry by creating an application of your own.
4. On-Demand Fashion & Lifestyle Apps
In order to keep up with the daily trends, one needs to be updated with the fashion trends as well as lifestyle patterns on a daily basis as this keeps evolving and if you are unaware then you are left out. These applications deal with latest trends in outfits and gadgets that individuals wish to buy, they can compare the prices on various applications and zero in on what suits their budget.
Online shopping has seen a sudden growth in the last decade as more and more people are buying products off the net and in order to buy at the best possible prices these applications are the most suitable. There is a new trend that crops up every few days and fashion apps shall never go out of demand.
Buying products from these applications to maintain a certain status in the society, applications like furniture, home décor and electronic gadgets have a huge market and creating an application that caters to the fashion/lifestyle industry will only be rewarding in the future.
5. On- Demand Service Apps
Those days are far gone when we had to look for our phone directory to call for home services. After talking to various service providers we would fix one and they would also bail out on us during the hour we need them the most. These on demand service apps like Urban Clap, Just Dial and all are here to solve all our needs within minutes.
All we need to do is, open the app, enter your address and look for service providers for the specific issue select the service needed and book an appointment and within minutes someone would be assigned for the task. Then, the service provider shall come and finish the work. Everything from plumbing to AC Repair and house set up is covered and these applications send the best professionals so that the output is outstanding.
Conclusion
Due to never ending demands of users, the on-demand applications will continue to thrive and this market seems to have a bright future ahead so as a business if you design an application keeping one of the needs in mind then it will be lapped up by the consumers in no time.
These applications need to target the right audience for which a basic market research of the market and the current needs/trends needs to be done prior to creating the application.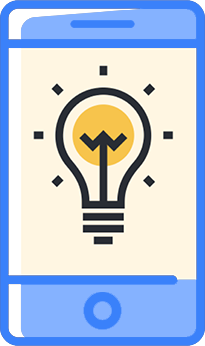 Have an Idea?
Share your ideas and get in touch with our full-fledged on-demand mobile app development company, SysBunny to bring your application to life.
Contact Us
or
Email Us