Despite increasing popularity of Android platform, Apple is stable and gradually improving its market share in upcoming technology trends. The trends and patterns in 2016 are giving perfect clues to what is next in iOS ecosystem and what will continue for iOS app development. According to IDC, nearly 344.3 million smartphones have shipped worldwide in the first quarter of 2017. Out of those, 14.7% were running iOS. In Apple's report for 2016, nearly one billion active iOS devices are existing including iPhone, iPad, Mac PC, Apple TVs, iPods, and Apple Watches.
Recommended For You: 15 Essentials to Develop Custom iPhone Application
It is true that despite the onslaught of Android ecosystem, which labeled with open source and open system with numerous partners across the globe, Apple has kept its position intact. The following graph supports it.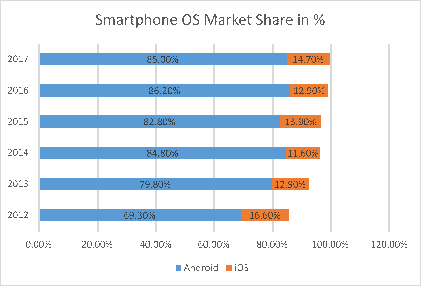 It indicates that Apple has a huge iOS ecosystem next to Android. However, iOS ecosystem is considering the most rewarding at the mobile app developers point of views. The following facts are supporting the belief.
Geographic Distribution of iOS and Android Devices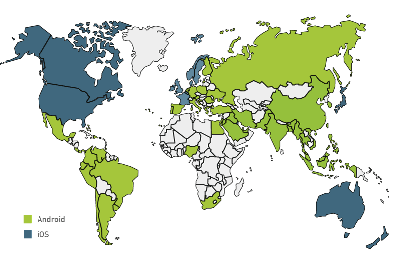 The image above is clearly depicting that the distribution and popularity of iOS are in the developed countries such as the USA, Canada, Australia, Japan, and European nations. Therefore, iOS users are affluent enough to spend more on iOS app development.
UX Index of Mobile Devices
Another vital factor that favors iOS ecosystem is user experiences (UX) with a user interface (UI) and user interactions.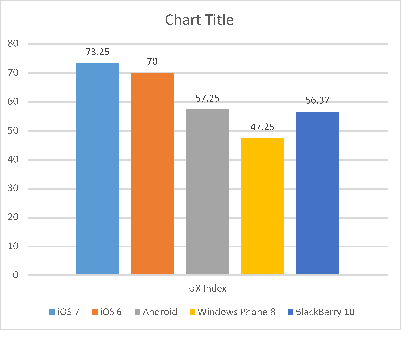 The graph above indicates that iOS is a clear winner and resides on the top for the excellent user experiences with operating system features and functionality. The same goes true for iOS devices. Thus, a combination of both creates an elegant and advanced ecosystem to sustain high-end applications with current as well as upcoming technologies.
Nearly $20 billion revenue Apple App Store has generated from the work of iOS app developers and paid $70 billion to app developers as per the latest data.
These all data and statistics deliver a clear message to the mobile app developers that Apple iOS platform is thriving, healthy, and provide bright opportunities to jump on iOS application development similarly as they were doing in the 2008-10 period. After a bird's eye view on the iOS ecosystem and promising future, let's check what was trendy in the iOS ecosystem for iOS app developers from 2016 to 17, as well as predictions for 2018 and beyond.
Augmented Reality (AR) Tipping the Market
Both tech giants, Apple and Google, have realized the significance of AR technologies. Therefore, Apple has released ARKit for iOS and Google ARCore for Android, as SDK to support the Augmented Reality app development on their respective platforms. Digi-Capital has suggested that AR technologies would be a mainstream concern in 2021 with $108 billion mobile app ecosystem. The brands will go big with AR app, and instant evidence is the recent release of IKEA app for furniture market. The AR app is an innovative way to engage the iOS app users to contextually aware ecommerce experience. Technically, ARKit has potential to grant iOS apps that can alter the way in which shopping takes place online using handheld devices. Against the all other AR devices, iOS mobile devices have all required potential to harbor the AR app with full capacities so AR app development for iOS platform would be next wave for iOS app developers in 2018 and beyond.
Location-based iBeacon Technology
GPS compatibility is now common on all mobile devices that provides satellite coordinates data to fix the global location of the device user. Fortunately, almost all iOS devices are equipped with GPS technologies and ready to go one more step ahead of LBS (Location-Based Service) app providing race. Another location-based technology is Beacon and Apple has already developed iBeacon well in advance. With the amalgamation of GPS and iBeacon, retailers and other event organizers, as well as museum-like places, leverage macro, and micro location-based applications through iOS applications.
Recommended For You: SysBunny Announced Release of Augmented Reality App Development Services
Today several commercially viable iBeacon apps existing in Apple ecosystem and potential of increasing it is high in 2018.
Internet of Things (IoT) in iOS App Ecosystem
Apple is one step forward in IoT application technologies by providing HomeKit last year to develop smart home products based on IoT, wearable, GPS, Geo-fencing, and iBeacon technology mingling. Thanks to 3D touch capabilities, iOS 10 devices users can pull up many additional options to operate IoT apps from anywhere and at any time.
Wearable Apps a New iOS App Development Trend
Apple released the first wearable smartwatch device in 2015 after the failure of smart glasses by Google. Apple Watch is far elegant and powerful than its competitors' products in the market, and it became $10 billion business during the first year sale by shipping more than 12 million units in 2015 and 20 million in 2016 with 50% market share. Some of the Apple Watch applications are running independently, but the majority of apps need the assistance of mobile applications to accomplish processing intensive and battery draining processes, particularly, access of the web services or cloud services is essential. Data visualization is still an issue for wearable apps, and iOS mobile apps are mandatory for it. Thus, iOS mobile apps will have higher demands compared to record and penetration of wearable devices by Apple in the market will boost it further.
Mobile Commerce Raising Up
People love to pay using mobile devices, particularly smartphones. Therefore, mobile commerce apps or m-Payment apps are in great demand in 2017, as well as will continue in demand in 2018. The following trends support the statement strongly.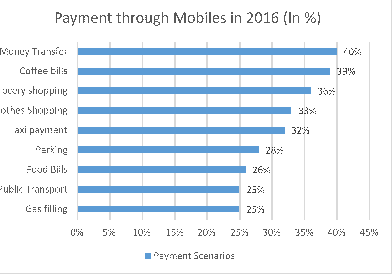 We have seen that 40% money transactions are taking place on mobile devices. Thus, M-Commerce app development trends are on raise and remain to continue in coming years.
Conclusion:
Finally, we have explored the majority of upcoming technology trends and also have realized how iOS app development is a stable ecosystem for iOS mobile app developers. The upcoming technologies are intricate in nature and demanding extensive resources as well as skills from the iOS app development companies.
Therefore, a business looking for iOS applications must consult the right iOS app development consultant or an agency with prior experiences and expertise. Fortunately, for the USA clients, SysBunny is an excellent option to knock the door even at midnight!