One of the key discoveries that revolutionized the mechanization era is the curtain-raiser of AI and AR to the corporate lives. So what is this Artificial Intelligence and Augmented Analytics?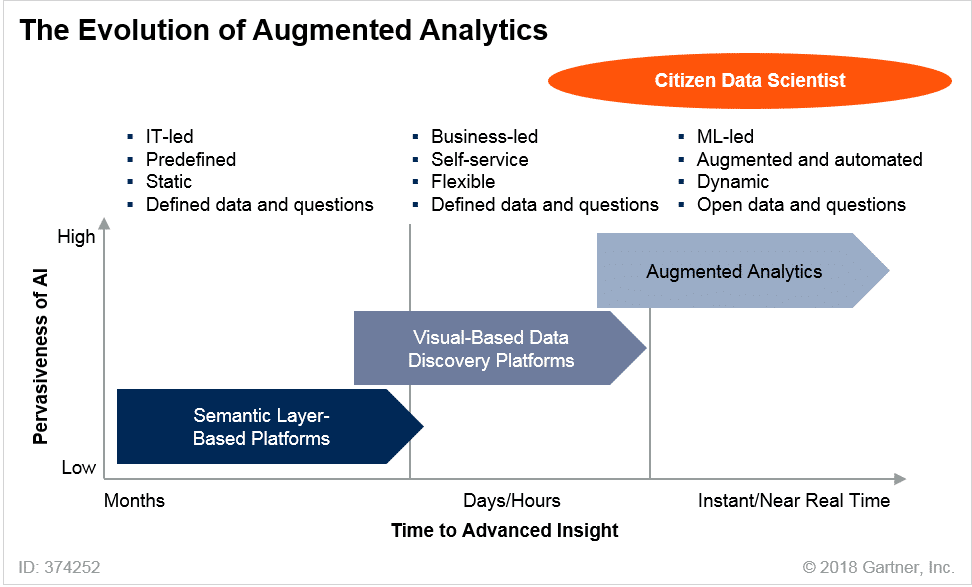 Introduction to Augmented Reality and Artificial Intelligence
AI is concerned with designing highly smart machines to mimic human discernment and simplify their needs and perform any activities that human intellect can do. On the other side, Augmented Analytics is used to modify the process of analytic content, which includes AR development, consumption, and sharing, through the aid of machine learning and AI.
Augmented analytics is yet to break headlines, as numerous Multinational corporations are experimenting with Augmented Reality and anticipate developing forthcoming projects using AR. Most people see that with the maturation of the capabilities, more data and analytic leaders will embrace the broad spectrum of Augmented Reality.
Scope Of AI And AR
A ticket to the future of organizations is promised with these technological breakthroughs. Despite the fanfare that Artificial Intelligence (AI) and Augmented Reality (AR) has created, companies and businesses are still toying with the concept due to the lack of exploration of its field. However, the usage of these technologies has already proven their intensive demands and future potentials.

A report claimed that till November 2019, 76% of C-suite administrators asserted their difficulty to gauge AI investments despite conceding its requirement for their enterprises' growth.

Multinational research and advisory firm Gartner predicts Artificial Intelligence's outlook and demands that 75% of companies will possibly begin to operate AI more pragmatically by the edge of 2024, and it will initiate a five-times surge in streaming data and analytic infrastructures.

It is recommended to adopt augmented analytics in its early stage itself as they recognize more strategic and discerning business privileges from their analytic undertakings. These enterprises will enhance and benefit more than others who adopt it later in their advanced stage.

Incorporating augmented analytics can boost AI and improve the effectiveness of Business Intelligence(BI) projects.

AI platforms are experiencing major AI application developments as it is now capable of supporting more advanced, analytics by expanding, augmented, Machine Learning manoeuvred facilities rather than providing simple, manual self-services. Therefore business impact can be boosted by the industry leaders through utilizing these cases.
Challenges Of Adopting AR To Business Firms
Investigating the world of technologies is unlocking new windows of possibilities and creating a new realm of high visualization through AR. Firms can use AR visual aids for deep interactions and authorizations. However, some of the challenges identified are listed below:
Data analysis, preparation, and sharing conclusions are still manually managed and are thus lengthy, a biased process that requires high abilities.

Insights provided by Augmented analytics do not often rely on context and are not easily consumable.

The status quo will be threatened as it affects job security. It will alter the workloads and redefine the current work processes.

Furthermore, augmented analytics is altering the future of the analytical subject, particularly its creation and consumption. It's adoption also simultaneously increased business results. However, doubts about technological newness, administrative immaturity, poor data literacy, lack of trust, and suspicions about lack of data still need immediate attention.
Challenges Of Integrating AI To Business Firms
The popularity of AI has been optimized with corporate sharks' investment by implementing AI in their companies to exploit its potential and thereby adapt the pathways of other's success stories. Along its way stands the challenges that will mostly target small firms

Shifting to AI is not cheap. In fact, the cost and adopting new computer technologies are its prime concerns.

AI systems limit their users, and thus the inflexibility of it when accessed by a large, diverse business group also proves that the successful integration is still far-fetched.

Artificial Intelligence has the capabilities to solve highly complex business problems. Still, most of the firms find it difficult to adopt new standards and are even inaccessible to the majority of workers.
What are the factors that determine your firm can make AI and AR mainstream?
Let's see some insights into this aspect of implementing Artificial Intelligence and Augmented Analytics.
1. When Machine Learning Commence New Project Without Prior Request
If machine learning commenced to factor into new projects and endeavours even before the decision maker's consideration and request, then that is a sign of your voucher to go mainstream. In early 2019, Deloitte, a global network of firms, encouraged corporations, the continuous use of machine learning and comparable tools "across every core business process and enterprise operations" to become "a true 6AI-fuelled organization." Deloitte also implied that this strategy would come to determine the "table stakes for survival in the near future."
2. Does Incorporating Data From Different Firms Determines Your Fate?
If your establishment can leverage structured and unstructured data from numerous other sources and the data channel is credible, it's probably time to go mainstream. When companies shift to AI to embark on new undertakings and endeavours, it will be necessary for the administrators who employ advanced analytics to incorporate modern types of data. Companies with a plethora of data vendors and foundations are adequate to move forward.
3. Is The Capacity Of Your Firm Suitable?
The organization is key for anything. If you have ascertained techniques, identifiable resources, and already created efficient teams as part of your prevailing AI, it is time to take off to mainstream. A thorough, meticulous strategy that you deploy is foundational to all other AI enterprisingness. The Harvard Business Review infers that a portfolio of AI initiatives, each with various objectives, timelines, and internal support, is crucial to new adaptations.
4. Do You Have Comparable Analytics Resources?
Corporations that have already proceeded to align users in different teams to a single authority for insights are probably prepared to go mainstream. For scaling and guaranteeing your analytics proficiency, it is pivotal to ensure AI capabilities do not become separated and that all the team members of your firm amass identical insights from the same analytics resource.
AI And The Future Of Decision-Making
The juxtaposition of AI upheaval with companies' necessity to educate employees from their daily manual operations is a time-consuming process. Employees should be made more competitive in their decision making which will add further value to the business.
Once the Augmented analytics platform's maturation transpires, analytic insights should be made using AI and AR, which will be susceptible for all business roles.
From basic cognitive processes that one can automate to complicated, real-time calculations encompassing billions of data, the spotlight is established across the corporations for AI-based decision assistance.
If we go for maximizing the exploitation of stemming potentials of existing AI as well as AR, it will encourage innovative experiments using Augmented Analytics.
Today, administrators are submerging themselves in data. The complexity of data is also increasing day by day, and the struggle to comprehend and select important data from these piles is making the task even more difficult. Unlike manual approaches, Augmented analytics do not need prior relationship knowledge to provide insights and sort data, and they complete the task within minutes of time.
One of the main benefits will be extending the wide range of employees with its easy usability. Through automation of improvement, administration, and deployment of Data Science and Machine Learning (DSML), Augmented analytics makes professionals more efficient and extends the DSML mode of advancement to a wider community of less skilled users and even new citizen data science roles.
Getting Ready with Artificial Intelligence and Augmented Analytics!
Business authorities will be astonished by the workers' receptive border attitudes that will unfold with the access to more approachable, AI-driven facilities. These tools will help them enhance their individual execution and make them more attachable to the principle essence that drives the company ahead. Moreover, Gartner has labelled augmented analytics as one of the top 10 data and analytics sensations that will transform business enterprises.
One of the significant challenges in this realm will be overcoming the current barriers that need significant data and analytic leaders' significant measures. They should be the ones who will further explore this field and challenge the processes and strategies for analytics. Creating a favorable climate and even a culture that does not hesitate to adopt trends will accelerate the profits.
What you need is an open mind to experiment and appreciate the innovation and the impact of these technologies so that you can introduce contemporary processes, roles, and administration techniques to new auto-generated models.
Find apps Backed with Artificial Intelligence and Augmented Reality at Sysbunny!
Sysbunny stands as a top-ranked Mobile app development company. Our AI development solutions have enabled many business ventures to attain greater heights. Augmented reality solutions are our specialty, and our developers possess impressive experience in this field. Let us create AR applications for your brand and help you progress towards your business goals. Contact us now!