Recently, Gartner, a leading surveying agency has conducted surveys and analysis on the data gathered on the mobile app development trends. It has given some useful insights on the mobile app development expenditure made in previous years. The following graph is depicting the real picture and predictions.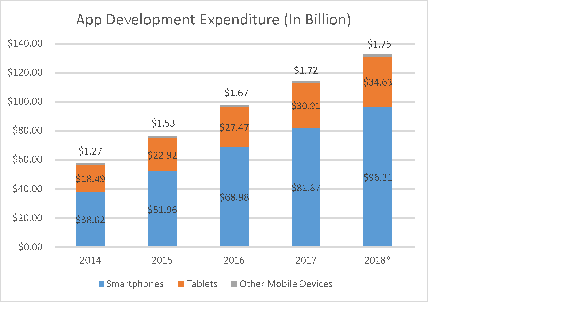 The trends show that smartphone apps development is gaining more ground than tablet apps. It indicates that the preference for mobility is high as smartphones are real mobile devices used explicitly while on the go. Moreover, mobile payment is becoming easy and quick process thanks to Google Wallet and Apple Pay like highly secure payment applications and services. NFD (Near Field Devices) technologies added one more layer of security and faster payments using mobile devices powered by NFD hardware and software.
These all lead to increase is Mobile Commerce Applications and hence, the development.
The cloud-based services and applications are getting faster adoption among the masses thanks to the advent of technologies and economic feasibility. Technically, mobile devices are thin clients with lesser storage and processing capacities. Therefore, cloud computing proves a blessing for the growth of mobile apps and wearable app too. Related Blog: Mobile Application Development Services Revealing Futuristic Trends Cisco Research team had conducted research on mobile cloud traffic as well as non-mobile cloud traffic for following parameters. Mobile Cloud Traffic:
Video streaming
Audio streaming
Online gaming
Social networking
Web browsing
Online storage
Non-Mobile Cloud Traffic:
IP Voice
File sharing
App/file downloading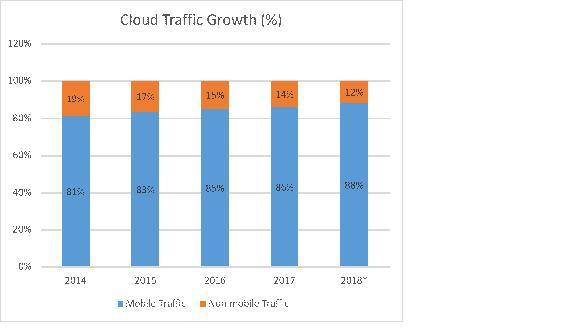 The graph depicts that the cloud traffic for mobile devices is increasing the cost of decreasing non-mobile traffic.
Based on the data, we can conclude that Cloud-Based Mobile App Services is increasing gradually and pay ways to cloud technologies in the mainstream.
IDC (International Data Corporation) surveyed on wearable devices and apps. It has reported the growth of wearable applications devices in Composite Annual Growth Rate (CAGR) survey with the prediction of 20.3% by 2020. It leads to shipment of 213.6 million units. Fortunately, wearable apps mostly rely on the mobile apps anyhow and indirectly boost the growth of mobile app development.
It means the increase in Wearable Devices turns into the increase of mobile apps.
The IoT (Internet of Things) are rapidly spreading at the global level. It is believed that it will grow from $157 billion market share in 2016 to $661 billion by 2021 according to CARG report.
The growth of IoT Application means a boost in mobile app development.
It is because the majority of IoT applications is relying on mobile apps for operating and monitoring for purposes. LBS (Location-based Services) are penetrating in various unpredicted and untraversed niches. GPS, Bluetooth (Beacon), Wi-Fi, and powerful mobile connectivity have made it possible. At one hand, LBS is only possible with mobility, and it comes through handheld devices including smartphones and tablets. Therefore, GPS apps are working excellent on mobiles thanks to GPS hardware compatibility. Similarly, Beacon and Wi-Fi like components of LBS work fine with mobile devices and provide immense opportunity to the retailers to do marketing in completely innovative ways.
Thus, LBS apps for mobiles are still in growing phase and will continue in coming days.
You may have listened to the saga of Pokémon Go game developed on the Augmented Reality technologies. The AR technology mostly relies on mobile devices thanks to AR hardware compatibility. Apple released ARLab SDK for iOS devices last year, and recently, it is iPad with the latest release, which is compatible with AR apps in many aspects. Google is not lagged behind the race and developed many things for AR technology boost.
Augmented Reality is the next wave that will provide enough Oxygen to mobile app development industry to sustain and grow beyond 2017.
If you are unaware of Augmented Reality and its applications, please go through our series on AR App Development. Gartner has reported nearly 300% increase in the investment in Artificial Intelligence (AI) technologies.
The AI is, directly and indirectly, boosting the growth of mobile apps in the market with unique and innovative implementations.
Siri on iOS devices and Cortana on Microsoft as well as Google Voice are powered by AI technologies where machine learning and M2M communication technologies are adding more flavors in augmentation of AI technologies for the mobiles. Conclusion: The given trends of mobile app development in 2017 and beyond are highly optimistic, and for whom belief in a mobile entity is a must to sustain and grow in coming days. Of course, developing high-end mobile apps is not a child play, and mediocre app development companies have little room for it.
It is SysBunny like reputed Mobile App Development Team that can help you to create mobile apps compatible with the latest technology trends. If you know and discuss something in this regard, let's have live chats.