As a global Software Development Company, we always are striving to catch emerging trends and acquire the expertise to follow them in the coming days. Recently, Statista has forecasted that the next trends in technology niche are favoring AR (Augmented Reality) technologies.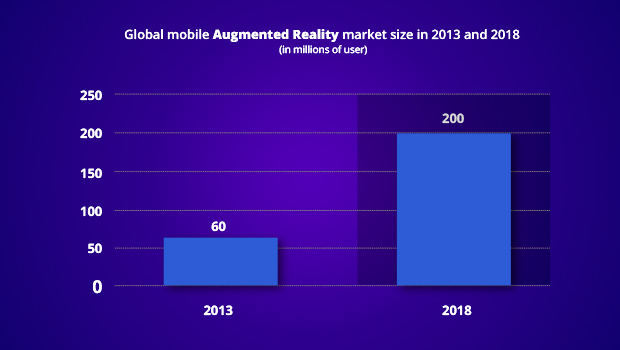 Today, the AR software & hardware market is around $5.2 billion. The next couple of years will touch $162 billion with the steep rise, and the most demanded part would be Augmented Reality applications primarily anchoring on smartphones/tablets and Wearable Devices. Statista has predicted it based on the data from the 2013 to 2018 period. So, it is the most reliable in the market.
If you are a business with a progressive mindset and keen on catching upcoming technology trends, I would like to introduce to you how Augmented Reality can make a difference. I already have described in previous blogs what Augmented Reality is from a tech point of view. I also illustrated how AR technologies work in real life. Later on, I also have depicted how AR is helpful in our day-to-day life in the blogs.
The most exciting fact is that I have given details of useful AR apps in a long series of blogs covering most industries and business niches where AR technologies are applicable. Therefore, today, I will focus only on the retail business and acknowledge that AR can enhance your retail business growth.
AR App to Deliver Product Information in Real-time for Your Retail Business
In 2017, Salsify published research data on smart mobile devices' users. It has revealed that nearly 77% of shoppers use mobile devices for shopping, even during their visits to brick-and-mortar stores.
They love to use mobile to gather information regarding products, including detailed attributes of products, prices, and ratings/reviews provided by previously authenticated users of the same products.
Previously, they were surfing the website or an app of the same business. Still, with the introduction of AR-powered app, they got product-related details in real-time by simply focusing the mobile camera on the product in the self.
Shoppers need not read the details printed on the packing/wrapper and ask the sales representative anything more about the product. It can save time and effort to learn about the products, and shoppers can quickly move in shopping by visiting myriads of products within the shortest span.
IBM has created and tested such AR apps in the market and displayed the power of AR technology in the growth of retail business falls in any category.
AR App to Enhance In-store Product Placement Experiences for a Retailer
IBM has another AR app helping large-scale retailers to manage their in-store inventory and placement of the products. With millions of products and thousands of categories, proper placement and accountability of products become a critical issue for big retail businesses. IBM has found out perfect solutions for the business and ease staff involvement in the in-store product placement jobs.
AR app locates the self for the products in real-time using a camera and displays where gaps exist and which products should be placed there. Thus, it eliminates the presence of experienced and familiar staff at all times for such day-to-day tasks. It lets anyone accomplish it with the desired accuracy.
AR App to Enhance In-store Product Placement Experiences for a Retailer
Lowe's is a large retailer selling home improvement and appliances in its store. It has decided to enhance the shopping experiences by providing an in-app navigation facility in real-time once the shoppers enter the store premise and run its app.
The AR-powered app is capable of detecting the place or area locations where app users are moving. It also asks for the destination to the shoppers and starting giving real-time directions using arrows, symbols, and texts like tools.
Thus, the app alleviates staff in the store to guide shoppers and give them directions to reach their targeted products. App also saves the time of shoppers to locate their destinations by asking someone on each move in the large store. It shows how navigation becomes a convenient experience for shoppers!
AR App to Ensure Comfortable Try-on Experiences of Retail Products
For shoppers in the fashion and apparel industry, the 'try-on' is an unpleasant task before buying clothes. With each new selection, the shoppers have to go to the changing room. To avoid it, Cisco has mingled technology with AI (Artificial Intelligence) and other technologies to provide virtual changing room experiences to try on the selected clothes with various options like colors, styles, sizes, and so on.
It serves two purposes. One, a customer has opportunities to examine products physically. Second, test it virtually in quick and reliable ways. It leads to rapid closing of deals for sales staff and time saving and the utmost satisfaction of try-on the products without any doubt.
AR Magic Mirror App to Try Make Products Virtually
L'Oréal is a manufacturing company for personal care products. It has found product catalogs with images or videos of product usages by models inadequate to convince shoppers online and in-store. It has revived the concept of the Makeup Genius app as a magic mirror.
The app helps shoppers to check the product on their body or body parts without even touching it. Front-facing cameras of smartphones or tablets scan the user's face and simulate the makeup effects of the selected products. It also allows saving of your personalized ready-to-wear look to consider others' opinions and experiences.
Conclusion
For long, online and brick store retailers felt an imagination gap between their products and customers' visualization abilities. Augmented Reality has successfully bridge it and provide additional room to apply AI, IoT, and other relevant technologies to boost their sales, branding, and loyalty of customers with decent ROI.
Do you strive for an AR-powered app for your retail business for small to large scales of operations and uses? SysBunny is an outstanding team of AR app developers who carry highly advanced Augmented Reality application development for your shoppers using intelligent devices during shopping.