The responsibility of continually delivering cost-effective and safe patient care while ensuring smooth operations is challenging for the entire healthcare domain. However, even in the challenges, the task is a prerequisite for the success of healthcare organizations.
In a classic healthcare setup, decision-making is time-sensitive. In several instances, clinicians do not have enough data about patient health to make informed decisions in real-time.
Accepting the critical role of information in hospital management and patient care delivery, healthcare organizations have doubled their efforts to create clinical mobility solutions. They are continually investing in clinical mobility technology to better the accuracy, immediacy, and accessibility of patients' health information.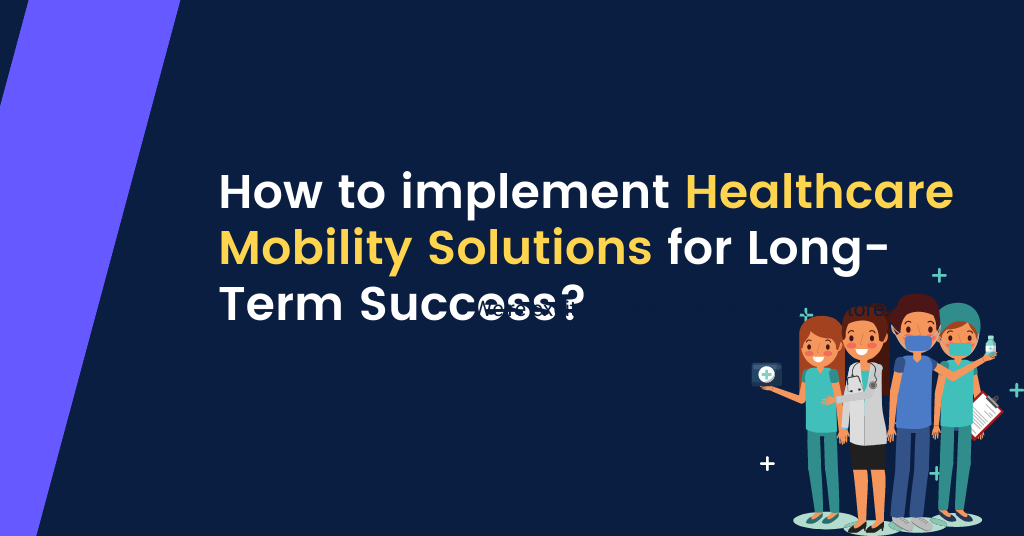 Strategized contributions to the Internet of Things, Electronic Health Records, Artificial Intelligence, Smart Devices, etc., are empowering clinicians and bettering patient care quality. Despite such impressive mobility in healthcare, it continues to face operational and adoption barriers.
This article will be a thorough analysis of what we can do to improve the mobility program's healthcare success chances. Instead of running straight down to the basics, we will note the many benefits of hospital mobility programs to help organizations that are still on the fence join the healthcare mobility trends and avail the many services that healthcare digitalization offers.
What is Clinical Mobility?
Clinical mobility solutions for healthcare revolve around using mobile devices like tablets, handheld portable computers, mobile printers, etc., to transform patients' care delivery inside a hospital positively.
By integrating new-gen technologies like the Internet of Things and Artificial Intelligence, clinical mobility in the healthcare industry is ushering in a new era in the healthcare sector, dominated by low delivery costs, high quality, and greater patient care centricity.
For meeting the lack of clinical mobility solutions, new-age healthcare mobility solutions are arriving loaded with three application classes: data management, workflow management, and collaboration and communication.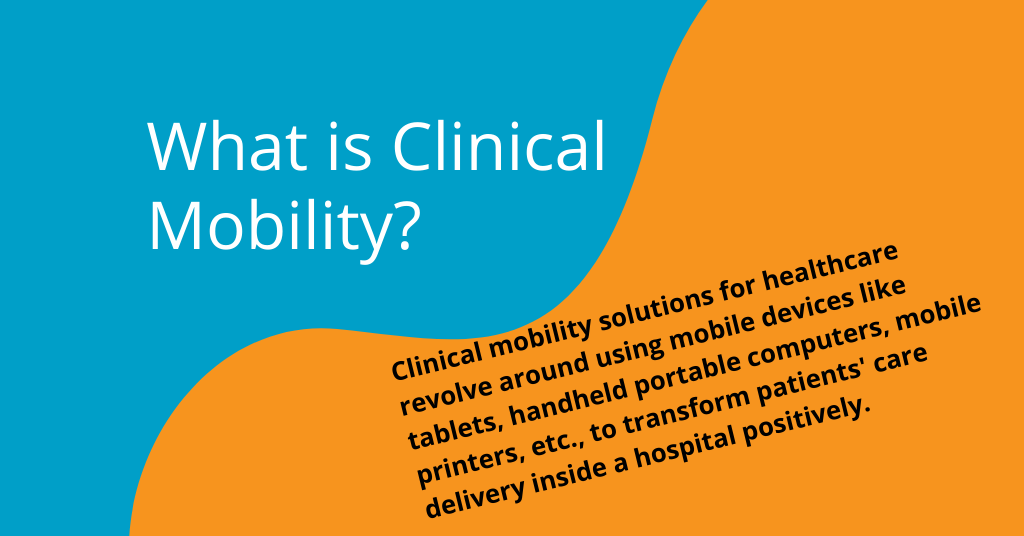 Workflow management—biomedical device alarms, work rule routing, EMR text notifications, nurse call alerts, and employee location
Data management—data capture and data retrieval in real-time
Communication and collaboration—secure text messaging, telemedicine, VoIP, digital image capture
Reasons Every Hospital Should Have a Clinical Mobility Solution with the Support of a Top Mobile Apps Development Company
Healthcare Mobility Solutions for Long-Term Success
There are many reasons which chart the need for creating a strategy for a healthcare mobility solution. Some top ones on the list include:
Real-time access to medical records
Enterprise mobility in healthcare revolutionizes how healthcare providers access patient records. The devices and EHR-centric solutions permit them to gather real-time access to patient data without waiting on the administrative team to provide them with the details.
With readily available access to patients' data, medical professionals can make effective clinical decisions. It lowers the patient wait time to a great extent. Enterprise mobility in healthcare helps patients and the healthcare unit.
Effective clinical communication
Bringing medical data to mobile devices in voice and text formats would help clinical staff interact and coordinate in real-time, thus facilitating their addressing patients' needs in a useful and timely fashion.
Mobile devices also facilitate pairing with healthcare wearables and other smart medical devices, making it possible for clinicians to make comprehensive decisions.
By reducing the need for individual devices and replacing them with all-encompassing mobility solutions, organizations get to save a significant amount of money. Upfront costs transform into long-term savings with lower dependency on IT support needs, device hardware, and efficient staff management.
Healthcare organizations can further save by placing healthcare-grade rugged devices in place that are designed for durability and lower repair and servicing costs.
Strong patient data security
Obtaining patients' real-time data is one thing, but ensuring that the information is 100% hack-proof is an altogether different ball game. Mobile technology gives healthcare organizations complete control over their patients' data with easy-to-use device management tools.
The industry is also probing ways to introduce blockchain into the healthcare domain to ensure that patient data is anonymous and breach-proof.
Centralized device management
Wireless connectivity of clinical mobility devices aids remote and centralized device management. Mobile App Developers create a system wherein the hospital's IT staff can access and monitor healthcare mobility equipment's status, performance, network connections, and usage in real-time and then send in a notification if a problem arises. The reasons for pointing out the need for digitalized clinical mobility solutions are in abundance. Sadly, so are their failure rates.
It has become challenging for healthcare organizations to deploy a healthcare mobility strategy that will stick. To make the situation a little easier, let us look into the factors that every healthcare Mobile Apps Development Company suggests developing the adoption rate's clinical mobility solutions while improving its efficiency.
How to Develop Effective Enterprise Mobility For the Healthcare sector?
It has established the role of AR Application Development in healthcare evolution several times as pivotal. What is less considered is how to make a healthcare solution designed for success and high adoption.
A clinical mobility solution's success should start with determining the foundational devices that administrators and clinicians use — smartphones, tablets, and laptops. Once it is set up, they should move to the part where they look into fitting in the tools and information that the hospital staff needs to offer adequate care to the patients and streamline the operational tasks.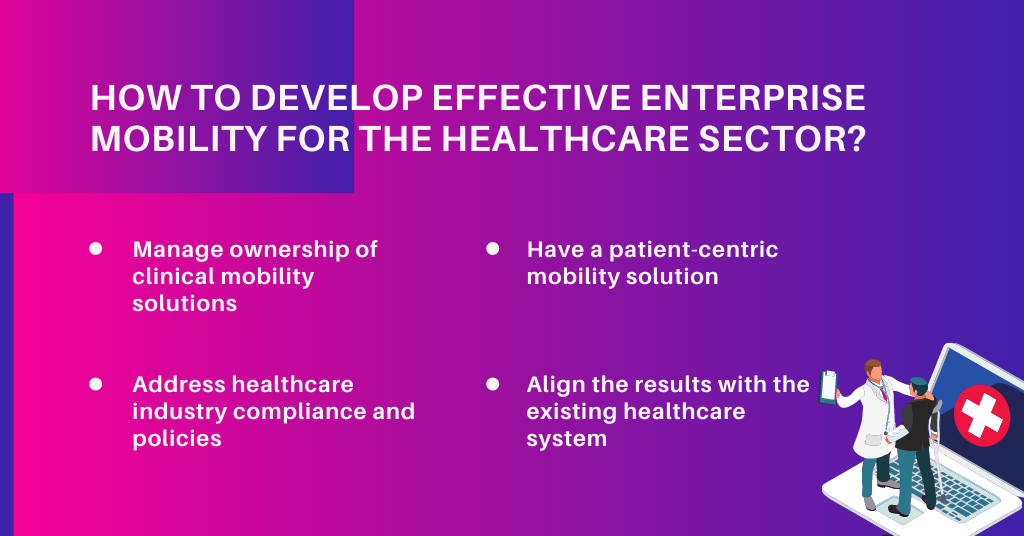 We must design mobility solutions to become the first contact point whenever the clinicians require any patient data. We should give new-gen technology integrations like IoT, AI, and Blockchain a greater focus in Mobile App Developers' ideation phase.
-Manage ownership of clinical mobility solutions
One of the decisions that every healthcare organization has to make for incorporating a clinical mobility solution handles the system's ownership. Will doctors who interact with patients be held accountable for modifying the data, or should it be done by the billing team?
We recommend giving stakeholders' modification access to the system, but the department head or the AR Application Development administrator should have the approval or decline modification capability. This is if you wish to have a centralized structure in place. Otherwise, the best solution for handling sensitive data is keeping the information on a hack-proof decentralized network.
-Address healthcare industry compliance and policies
Several compliances and rules power the healthcare industry. Revolving around several domains, the essence of all the healthcare compliance is more or less the same—ensuring that the users' data is preserved. While your partnered Mobile Apps Development Company can help create solutions that follow global healthcare compliance intricacies, it is also essential to re-look at the system backend from the same compliance-check point of view.
Only when you can create a compliance-meeting solution and process will you invite healthcare organizations to incorporate them into their internal processes.
-Have a patient-centric mobility solution
Even though the clinicians and medical professionals will use the clinical mobility solution discussed at length in this article, the outcome should be patient favoring.
We need to design them to keep the discharge process hassle-free, the patient wait time minimal, and the insurance claim and bill clearance step real-time and under three clicks. The solution should support remote care through the adoption of video conferencing, wearables' integration, etc.
-Align the results with the existing healthcare system
Before you work on a mobility solution, ask your Mobile App Developers to look into the system configurations and infrastructure commonly present in the hospitals in your area of operation.
Irrespective of how well-designed and deployed your clinical mobility solution is, if it cannot connect with the healthcare organizations' systems, the problems in terms of high operational cost and low adoption rate will only worsen. Thus, it is imperative to partner with an agency specializing in the modernization of a legacy system.
The successful formula of all the strategies, design, and AR Application Development approaches to create a dynamic clinical mobility solution eventually comes down to its ability to make healthcare operations real-time and patient-centric.
Sysbunny, with its promising team and enriched experience as a Mobile App Development Company, can help with Healthcare Mobility Solutions
As a top-ranked mobile app development company with an exceptional team of mobile app developers, Sysbunny can enable the creation of utilitarian applications for your success.
If you are in the healthcare niche and looking to set up healthcare mobility solutions, our IoT and AR application development support can prove fruitful for you. The future of the healthcare segment lies in such advanced technologies and know-how. Let us help you attain such futuristic goals. Contact our team now!