IOS vs Android development , the debate upon which one is better has been going on for over a decade. Both operating systems are excellent in their respective fields with the latest features. Most people choose the mobile devices their friends and family use, as they don't want to feel left out. 
There are numerous ways mobile devices are judged, such as features, software, camera quality, and many more. However, before we get into the details about both OS, let's keep in mind that they both are excellent and mature software works, and you won't be disappointed in either of them. Furthermore, both Android and iOS app developers adopt all new technologies to better their users' experience.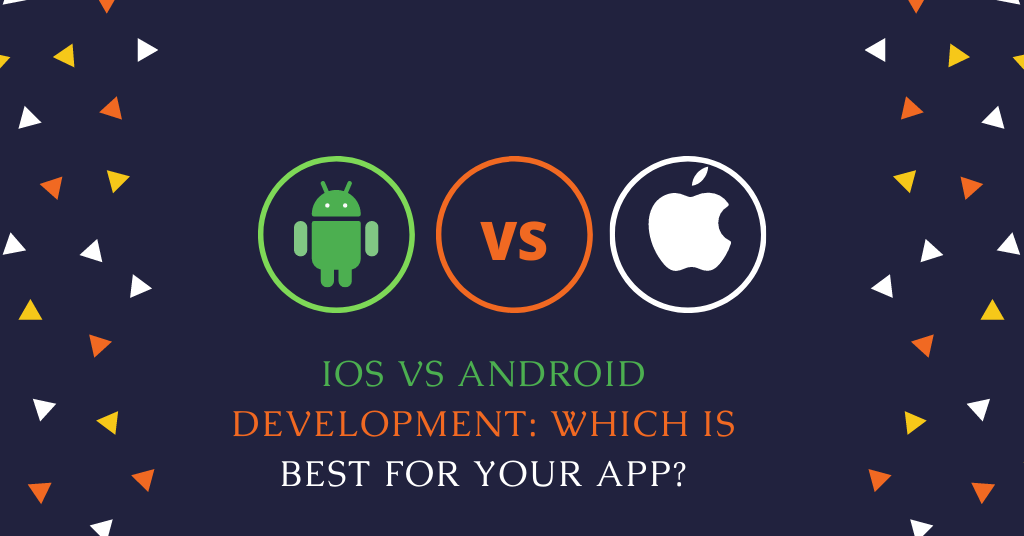 IOS Vs Android Development, Let's see the difference
Hardware
Apple software offers you only one hardware vendor; meanwhile, Android offers numerous vendors with a wide range of price, quality, and performance levels. Furthermore, as we know, Apple is a closed source software, where Android is open source; thus, any mobile phone developer can use Android in phone development.
Android offers all the latest features in budget-friendly mobile phones. The cheapest Android phone is $149, while the most affordable iOS phone is iPhone SE at $399. However, some Android phones are costlier than iPhone.
The most significant advantage in Android mobile devices is that you can insert micro SD cards for extra storage, wherein in iOS, you are stuck with the storage limit as per your purchased model. 
Thus, it's clear that Android wins this category.
Interface
Androids are more complex, from the multiscreen, more navigation to reach the desired feature and variations among multiple devices. For example, it takes numerous ways to get the settings. However, iOS is less complicated, has a smooth interface, and its settings are almost identical in all the models.
Although, the latest models of iOS allow more customization, customizable icons, and a new app library, which changes and organizes the icons. Android still has more options than iOS.
On the other hand, Google's features are more superior in iOS than Android, even though Android is Google's product. iOS forms group results of apps, emails, contacts, and a list of uninstalled apps from the app store. Overall, iOS offers a smooth experience compared to Android.
IOS wins this category. 
Technology support
As new technologies are emerging every year, there is a significant change in mobile functionality and app developments in Android and iOS. For example, Android beats iOS in the 5G network support, wireless charging, voice commands, etc.
Meanwhile, Apple likes to wait before implementing new technologies to know if they are reliable and work.
Android supports dual screens and foldable mobile phones, plus third-party can add functionality to support its essential features. For example, Microsoft's Surface Duo. Hence, Android takes the cake in this category.
Applications
You can find plenty of apps on both Google Play Store and Apple store, from email, web browsing, photo editing, audio-video playing, navigation, and many more. Android is the biggest app store with 3.14 million apps, where the Apple store has 2.09 million apps. 
Android and iOS both lets you install and uninstall any app whenever you want, and they even allow you to install third-party apps. Android leads the category by all the latest apps. However, the only drawback they have is that they still don't have a good to-do list app. Apple's reminder app is still superior.
Apple has a lead in messaging apps with Memoji, Animoji, payments, games, and the entire iMessage app store. You can quickly start an audio call or video call during a text messaging session. And more importantly, iMessage is end-to-end encrypted; thus, all your messages and data have zero chances of getting stolen.
However, Android has a fantastic mapping app with thorough local information, biking directions with walking, public transportation, rental cabs, and 3D street view. Apple has introduced street view in iOS 14, but it isn't widespread yet.
Both OS offers amazing apps that stand out in their platforms, such as health monitoring, news, apps, etc. But in the end, iOS excels this category with advanced applications. 
Updates
iOS offers the latest updates for several years after the purchase. Although Android offers numerous updates, it still falls behind iOS. Only 10% of the mobile devices have the Android 10 version, on the other hand, 81% of iPhone has iOS 13, and 92% of people purchased iOS 13 in the last four years.
iOS is better at adapting updates than Android, thus, winning this category easily.
Security
Although both OS has decent strategies for security, no one guarantees security better than iPhone. Furthermore, Android is open-source; thus, it makes it more venerable to malware threats. Thus, in simple language, Android apps have more chances to be in trouble than iOS.
There are numerous reports on how malware has threatened Android in the past few years. Also, a few years ago, a fake version of WhatsApp was downloaded more than a million times, jeopardizing user data. 
However, it doesn't mean that iOS is invulnerable to outside threats. But it's less likely to be targeted than Android and has better chances for your data security.
Privacy
Just like the security, iOS is more reliable than Android in maintain user privacy. But, as we know, Google's entire strategy depends on gathering all the information about its users; it needs to collect all the user data and share it with other companies. Thus, privacy has been an issue for Android.
Even though Google claims that they are maintaining user privacy, Apple is reluctant to believe that. This is because Apple doesn't need to sell its user data to other apps for advertisement purposes and make money.
Furthermore, Apple has improved its functionality that uses your data and reduces how much data goes to the cloud. Thus, there is no doubt that Apple is the viable choice if you want to keep your information secure.
Integration with other devices
iOS makes it very easy to connect iPhone with MacBook and other iOS devices. With the help of windows 10's mobile app, it has been easy to connect android phones with laptops and other devices.
You can use all of Apple's services on every Apple device. For example, you can reply to a text through Apple watch or start writing your email on your iPhone and finish it on mac. Android users do not have this privilege unless you have all the device from the same brand. Unfortunately, there are not many Android companies that make all the products of these categories.
Camera quality
The camera quality has been one of the prime features of every mobile device. Both Android and iOS offer a fantastic camera and excellent photo quality, as well as multiple cameras. Both of these Operating systems have impressive photo enhancement software to make your photos look better. Also, they can blur the background and has additional features, such as Panorama, slow motion, time-lapse, and night mode.
Android has more camera features than iOS, such as 360-degree photos, and with the help of Google Lens, you can search your desired product by sharing images. Unfortunately, however, most of the low-budget phones have poor camera quality.
Voice assistant
Android's Google Assistant and Apple's Siri share the same functionality. However, Siri is more straightforward for setting appointments, putting reminders, searching the web, or sending messages. Google assistant is one step ahead in this. It is more innovative and more versatile.
Google assistant offers relevant suggestions, entertaining games, and contextual information. Although in its new update, Siri lets you set control over recommendations and set a voice command to automated tasks. Still, Google assistant improves quicker and offers numerous things like making reservations and call screening.
Therefore, Android leads this category. 
Parental controls
Both Android and Apple have strong parental controls, but Android easily lets you install third-party parental control software. On the other hand, iOS offers deep built-in controls.
Apple offers a screen time feature, which monitors the time your child spends on their devices and limit the usage of specific apps and features on your child's smart devices. Additionally, you can restrict the settings of your Apple devices for explicit content, purchase, privacy, and downloads. Screen time prepares a detailed report on your child's activities. In addition, parents can set passwords on the device and restrict calls, messages, payments, FaceTime from the device.
In Android, you can set up a child's phone or a parent's phone. However, Android doesn't limit you with its parental controls; it offers you third-party apps. For example, Google's Family Link allows parents to keep an eye on child's activity and limit their usage, lock their devices, and see their location.
VR and AR support
Both Android and Apple have put so much effort into VR and AR. They have a massive library of casual and advanced games, and they both allow users to subscribe to games so that they don't have to buy them individually.
iOS has numerous varieties in VR apps and games that you can enjoy on specific VR headsets. In addition, apple enhanced their ARKit technology to power Augmented Reality apps, which bring 3D objects into a world view. The latest ARKit 4 offers depth API, location anchoring, and face tracking.
Android works on ARCore Augment reality technology. In addition, they are working on numerous projects that Android application developers can use to develop VR apps and make the VR experience smooth. 
Business Features
The most crucial factor for business is security and privacy, and iOS is the wise choice for that. But, some companies require Android's open architecture that allows them to create apps that can be flexible to access system features, such as parental controls, MDM issues, where Android lets third-party apps take control.
Compared to iOS, Android works better with windows 10. And since most of the business work gets done by windows, Android is an obvious choice for businesses.
Conclusion
Everybody has different preferences; thus, it's entirely up to you which platform you want to choose. As you can see, both Android and iOS have expertise in their particular fields. They both are excellent and work best for the users. The only problem people face with these OS is when they shift from one to another, i.e., Android to iOS and vice versa.
You can choose one according to your requirements. For example, if security and privacy are your prime focus, then you should go for iOS. And if you want to customize your app as per your preferences, go with Android.