In this digital world, there has always been the modern world of thriving technology, having a choice of Platform to be used for developing a business app is must for a growing company. The highest web traffic is received from smartphones, it used devices for personal and professional use and people are spending more and more time every day. This statistic contains data of June 2016, there were at 2.2 million apps available in the Apple's App Store, play store of Google is ranking first, the two leading app stores in the world. App store of Apple remained the second-largest position app store with 2.2 million available apps so many a business to build up their app with iOS platform. iOS devices are getting more and more popular especially for their superb performance and the most right functionality features which users love to use.
An app for a business is meant to:
Solve a problem
Provide More Value to Your Customers
Taking Brand Value to the Next Level
Offer a better value than a web portal
Boost Profits
Why developing a mobile app is essential? There always arises a dilemma while selecting the appropriate for Android or iOS? Both of these platforms different benefits and beneficial in their own ways. Therefore, before developing apps for iOS devices, it is required to decide the right platform of the aspects of iOS application development that definitely benefits your business to grow.
You may also be interested in: Best Development Tips for Android App Developers
What is iOS?
iOS is most popular short for operating system platform in the world of mobile application development. iOS is the operating system that used to run the Apple's iPad, iPhone, and iPod touch. Nowadays, with increasing use of smartphones, two major platforms that run a smartphone are Android and iOS choose by the mobile app developers for building apps. Now, I know what you might be thinking. There are several advantages of iOS application Development by which your business can grow as expected and quickly. Here's are some key benefits of iOS platform is quite beneficial in comparison to Android.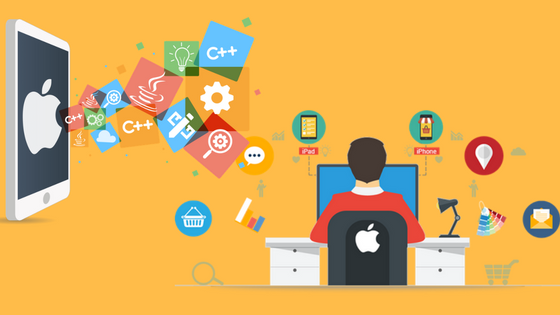 Advantages of iOS App Development to developing an innovative app for your business
-iOS is easy to use interface. Apple's iPhone becomes the dream of many smartphone users, providing high customer service and become a market leader for offering unmatched devices. You can attract your Apple users easily if an application will be created on synchronized environment Apple's platform. These special flexible User Interface of the features of the iOS app can make your business application more desirable and boost up their sales and earn maximum benefits.
You may also be interested in: Top Five Benefits of Hybrid Mobile App Development
-iOS has more security. iOS platform offers its users stay safe from external threats which is the best part and advantage of this platform. While developing an app for the business, providing a powerful shield against malware, virus and other internet threats for an app development of a business. iOS applications are secured applications, allows effortless transaction facilities app without spending more time on testing different devices. -iOS users are usually happy users, an efficiently developed iOS app helps to promote your brand or your organization to enhance productivity with profitability services to reach your targeted audience. iOS application builds a strong relationship with customers and clients, and the great audience to deliver your product and solutions to achieve their goals. Better the application is, strong would be the relationship with the superior brand in consumer electronics. – For business, there are multiple options available in the highly popular app development market, this is because important to attract new customers to increase sales and chance to empower your business in the global market. The web is not a safe place for so thanks to a well-developed iPhone app Development Company can increase their availability and protect your customer's information. With an iOS mobile app, always been the attractive device to the public with constant acknowledgment from App Store and business can flourish on a regular basis. – iOS applications are innovation and latest technology used globally and this can help your business to expand most secure way. With smart app development is accepted globally, you may transforming traditional business processes in a modern way and find customers from every part of the world.
Conclusion:
These were the few benefits of an iOS application can be improving sales and revenues of the business. iOS is a first and wise choice for developing their mobile app. If you are looking for an iOS app development for your enterprise need, you should hire a reliable and knowledgeable iOS app development company like SysBunny and You can get in touch with our experts. Business owners are often found confused in selecting the right kind of app development method for their businesses. However, selecting the iOS app development can be more beneficial for your business than any other platform. There are numerous benefits of iOS app development which can assist you with your business growth. Contact us through info@sysbunny.com to get in touch with our creative and having experience to work with iPhone app developers! We have got expertise in building custom and best-in-class iOs apps as per clients' demand. You can run your query on its support team on anytime and from anywhere.
Want help in creating a mobile app for your business? Why or why not? Share your thoughts below in the comments section!