The Internet of Things app development is altogether different from the traditional mobile app development approaches. Therefore, IoT leaves greater impacts becomes the cause of the massive shift in the mobile app development approaches and processes.
Introduction:
Today the Internet of Things (IoT) is becoming a phenomenal thing in technology front. It has potential to impact the entire mobile app development industry and processes and resulting in a massive shift in the development and usage of the mobile applications.
The Nature of IoT Applications
However, being an amalgamation of a number of different technologies IoT applications are complex enough to develop, monitor, and operate. The machine to machine (M2M) communication using the Internet or cellular connectivity is at the base of IoT. The stake of technologies involved in the IoT applications renders altogether different roles for the mobile applications and mobile devices.
Recommended: 2017 Mobile App Development Trends You Should Know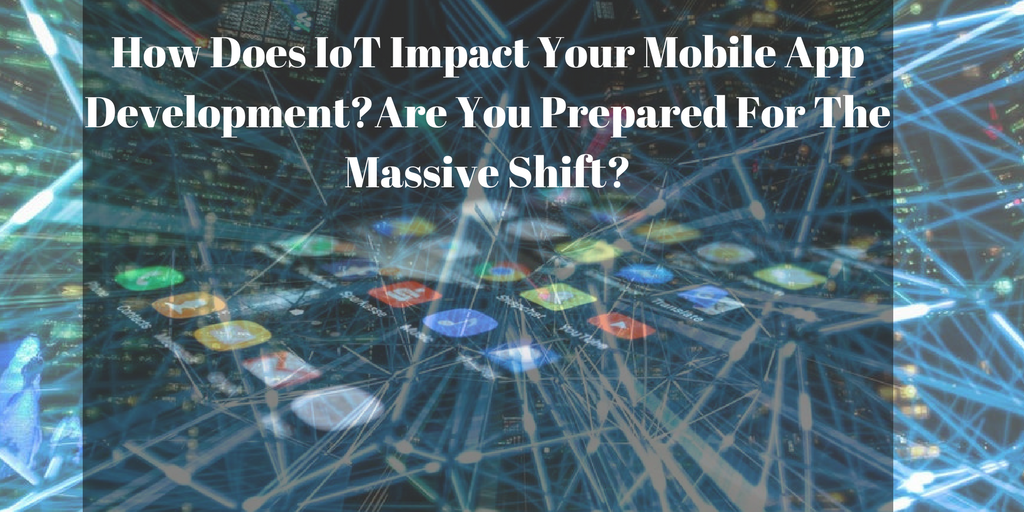 Perception of Mobile Apps before IoT 
Before the introduction of the IoT technologies, the mobile apps used to use as a endpoint applications to accomplish the designated tasks such as streaming music in the music apps, locating a business in the location-based app, and playing games in the game apps.
Perception of Mobile Apps in IoT 
In the IoT stack, the mobile application acts as a gateway application instead of remaining up to an endpoint applications. In the IoT application, hardware, machine, or a living body/part is becoming an endpoint to collect and send data to the mobile application. The mobile app is acting as monitoring and operating interface application by bridging the rests of IoT application components at the technical point of view. For instance, in a thermostat IoT application, the mobile app is integrated with Wi-Fi enabled thermostat and act as a remote control to automatically operate the thermostat by considering the weather and location data collected by the mobile hardware and apps. Thus, mobile devices also act as sensors and accumulate GPS and weather data in the background and sent to web servers or cloud services to communicate with the attached, connected devices in an IoT application. In short, mobile applications play dual roles in M2M data exchanges and act as operating or monitoring devices/interfaces in IoT stack. Therefore, IoT is perceptibly shifting the entire mobile app development approaches right from app architecture, strategies, integration and mobile app designed by UI/UX designers of right programming technologies. If you are a software developer and eager to know how IoT effects and carries massive shifting in mobile app development, I have listed a few points to grasp at tech point view. Let's check it.
The Selection of Starting Point
The IoT application development is an emerging field in the software development niche. The shifting roles and perceptions of the mobile application in the IoT stack confuse newbies and even mid-level IoT app developers that where to start and how.
Recommended: Questions to Ask before Creating Mobile Apps for Business
Platforms for IoT App Development 
In fact, IoT is enormous and much bigger than we anticipate it at the tech point view. Of course, the recent advancements favor the emergence of a framework to ease the life of IoT application developers. It will cut the trial and error efforts to figure things out while building the IoT mobile apps right from scratch.
"To avoid confusion where to start in IoT application development, developers can take help of the latest IoT platforms or frameworks."
Connectivity Issues
It is easy to connect the computing devices through different modes of connectivity available today like wired and wireless technologies including Wi-Fi, Bluetooth, and cellular services/LTE/3G/4G. Unfortunately, collecting and sending data from the non-computing components of IoT stack such as various sensors and machine parts becomes a big challenge for IoT app developers. It is embedding programming technologies and hardware that can ease the connectivity problems. However, IoT mobile app developers should learn the respective technologies used in embedding the endpoints with the IoT network.
"IoT mobile app developers should accustom to embedded coding using Embedded C and other open source platforms that encouraging embedded coding."
IoT Application Separated into Tiers 
The IoT application can have minimum five tiers such as device, gateway, data, analytics, and application. Now, application tier may have a web application or apps for all mobile platforms and role of the application to provide a user interface to operate, control, and monitor the IoT processes. Therefore, the mobile application needs to be more cohesive and different from the traditional apps that only act as endpoint applications, not a gateway application or assist into more functions.
"Mobile apps may be native or cross-platform, but must capable of integrating all tiers involved in the mobile IoT app development seamlessly." 
Conclusion:
Now, we know generally and technically that how mobile app development for IoT application development differs from the traditional mobile OS-based app development like iOS, Android, Windows, and cross-platform mobile app development. Therefore, it requires niche-based development approaches and will create a new group of developers who have IoT niche expertise. If you are scrappy to hire IoT niche expertise and looking for right IoT mobile app development team, SysBunny is a well-recognized team of IoT application developers across the globe.