Mobile apps are one of the quickest ways to reach out to global customers. These small but specific software programs designed especially for mobile phones have become a rage now. Statistics suggest that nearly 66% of the customers search products on their smartphones. In addition, apps are increasingly becoming popular medium with the collective average time spent by visitors on apps being 1350 billion hours a year.
Moreover, there is a considerable increase in number of app downloads. According to Statista, it rose from 178 billion in 2017 to 205 in 2018 and expected to cross 258 billion by 2022. This gigantic figure suggest a 45% of increase in the number of app downloads a period of five years. Considering such a huge demand, app development for Startups should be given priority to stay in the digital competition of the business.
According to Statista, the number of mobile app downloads shows a constant increment from 178 billion in 2017, 205 in 2018 to an estimated 258 billion in 2022, a 45 percent increase in five years!
Click To Tweet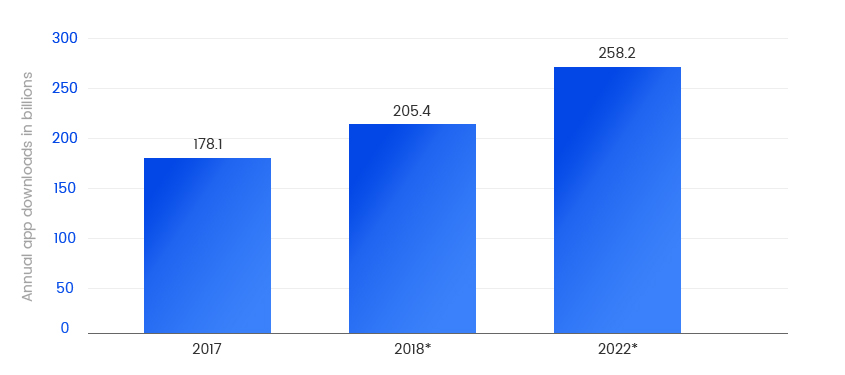 Image source: Statista.com
If you are a startup thinking of creating a mark in the business then apart from high quality product or service, you also need an effective marketing strategy. You need a method that will reach customers on point and offer products within their reach. This is where mobile apps fall into picture as a stunning app with good features would attract visitors, which can be later converted to permanent clients.
The research by Gallup Survey suggests that around three-fourth of US citizens have the habit of checking their mobile at least once in an hour. In addition, 90% of the 'mobile time' goes in checking the apps. Therefore, Startups that want to make it big cannot afford to ignore the power of mobile app development.
According to Gallup Survey, nearly three-fourth of US citizens have the habit of checking their smart phones minimum once in an hour. Moreover, 90% of the screen time is spent in browsing apps.
Click To Tweet
Top five benefits of app development for startups
Cover the digital customer base
Well, the world lives and thrives on mobile devices, be it smart phones, tablets, smart watches and more. This clearly pushes the demand for applications that work on mobile phones and give a certain result. Whether for personal use or for an enterprise level usage, apps are one of the best mediums to reach out to the digital customers.
Companies cannot miss out on a huge chunk of customers that check, analyze and even purchase their products and services online. With the help of mobile app, businesses can penetrate in remote locations or geographically distant places to create wider customer base for themselves.
According to app Annie,global mobile crowd spends nearly 900 hours in browsing mobile apps. There is 40% increase in the revenue generated by mobile apps with $7 billion generated by non gaming apps.
Click To Tweet
Sharing information to create a brand presence
With the help of mobile apps companies can develop their brand image by displaying the right information to a specific crowd, be it customers, business associates or layman visitors. By giving information that attracts the customers, they can develop a rapport with them and generate a brand presence. Having a brand image works wonders as many customers purchase stuff based on the brand reputation. They associate quality with the brand image, which makes it all the more important to create a space for your company in the highly competitive world. Mobile apps are the best way to uplift a brand.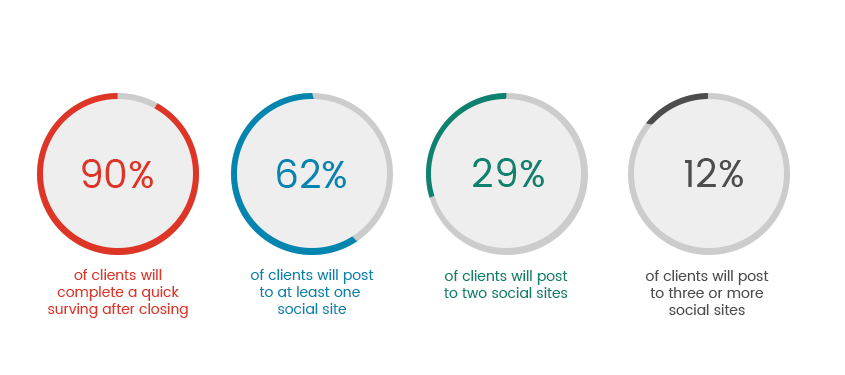 Image source: https://medium.com/
Improve customer engagement
Mobile apps are the easiest as well as appealing way to dig in a marketing channel for interacting with customers. Once installed, these apps can be used to push latest offers, notifications and information that increase customer interaction. Relevant info is the finest yet subtle method to pull customers towards products and services. Gradually, it converts a frequent visitor into a permanent customer, which is the ardent need of any business. Also, customers tend to share their experience on social media sites making it a wave of information flow. This kind of social engagement results in increasing number of customers and sales to higher levels.
According to Every Cloud, nearly 58% of highest performing companies use automation software to design advertising strategy. Technology improves customer experience resulting in higher sales.
Click To Tweet
Analytics to check customer behavior
With the help of smart phone apps, businesses can analyze customer data, their behavior, purchase history and more. This helps to design better marketing strategies to pull customers. Effective marketing moves are the sure shot ways to earn high returns on investment. Make sure that analysis form the base of mobile app design and development.
Reduce store cost
Mobile apps can actually facilitate better retail experience. By digitizing many aspects of marketing, purchase etc., companies can reduce the store cost to minimum. Checking the reviews of the customers on app, pushing latest offers on app and using digital medium to advertise actually reduces the cost of store by a huge margin. Therefore, mobile applications redefine marketing to cut down on the overhead cost.
Apart from developing an excellent rapport with the customers, apps can revolutionize the working of any enterprise. Extensive networks can be designing using Internet of Things to create a flawless communication flow within the right nodes of the organization. This alleviates decision making resulting in overall growth of a company.
Checklist to consider during app development for Startups
Decide why the company needs an app
This will help to list down precise reasons like customer engagement, brand visibility, marketing plan etc. It will help to find the loopholes in the process as well.
Choose the best platform for the app
Android has always ruled mobile app world with the highest number of downloads. However, app depends solely on the kind of business, which is the torch bearer to choose between iOS, Android or other operating systems.
Go for MVP design first
Minimum Viable Product (MVP) is an app with core functionality, which can be modified to suit the needs of the customer. If this basic app fulfills the primary goal of app development, companies can go on adding features as per the requirements of the customer.
Estimate the budget
Monetary constraints and liberties should be checked during the planning phase. A precisely defined budget helps in cutting down irrelevant expenditure. It is the base of choosing the platform, resources and time frame of app development for Startups.
Choose the best mobile app developers
An experienced team of developers should be selected to create exceptional mobile app within deadline and budget. Wrong resources may spoil the game as well as waste lot of time. Therefore, choose the best resources who can justify the requirements and budget.
Conclusion
The primary step for startups is to develop a mobile application as mentioned above, this enables startups to globally reach out to potential customers. You need a strategy that will arrive at clients on point and offer items inside their compass.
This is where mobile applications fall into picture as a shocking application with great highlights would pull in guests, which can be later changed according to the customers. It is imperative for mobile apps for organizations to keep a track on potential users and their requirements and it is possible by implementing various mobile app development strategies.
Mobile app development for Startups is the first step towards enveloping a wide base of digital customers. These apps play a fundamental role in pushing marketing, sales and RoI to next level.
Click To Tweet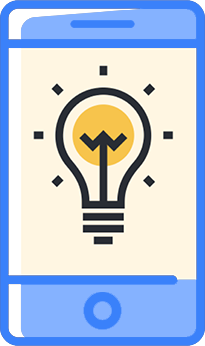 Have an Idea?
Need best mobile app developers to create a mobile app for the company then you have landed at the right place. SysBunny has a team of certified developers with years of experience in designing apps for Android, iOS and cross platform concepts. To know more about our methodology, feel free to connect with us.
Contact Us
or
Email Us