A group of devices, such as fitness bands and smartwatches, designed to be worn throughout the day are called wearables. This technology has been prevalent for the past few years. Wristwatches are a simple kind of wearable. The smart wearable connects you with your mobile phone or any other device. Sometimes wearables are called minicomputers, as they possess most of the features like them.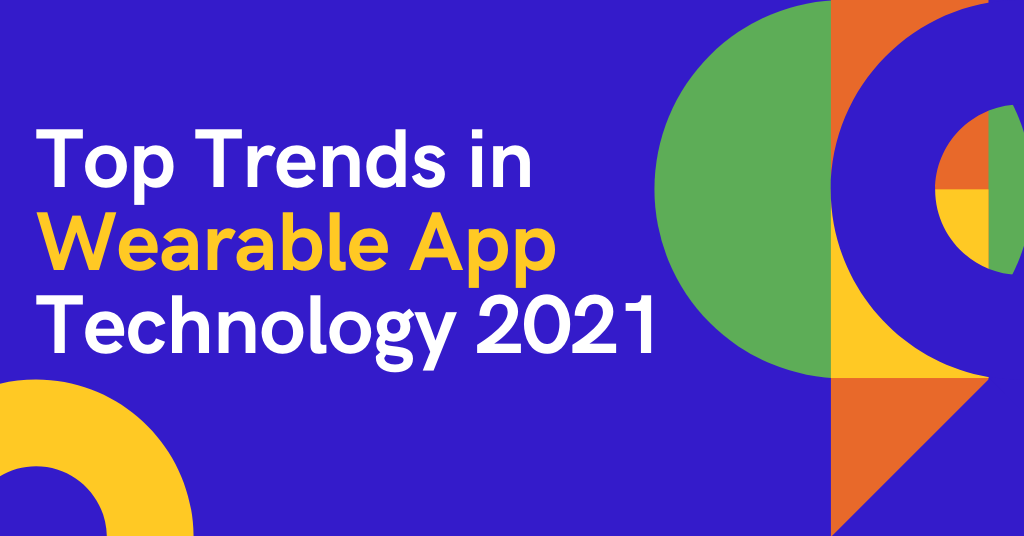 Users can control their mobile devices, computers, smartwatches, fitness bands, heart rate trackers, blood pressure monitors, blood oxygen level monitors, and many more with wearable technology.
Wearable devices are a fashion statement in today's era. As a monitoring device, it has excellent recognition, and there is no doubt that it will remain in the market for a long time.
Wearable app development services have started to invest and experiment more in wearable app development due to its popularity.
Let's see what the top trends for wearable app technology are.
Fitness trackers :
We have been using fitness trackers for so long. With fitness trackers, it is easier to keep track of your health so that this trend will remain for long in the market. Fitness trackers not only monitor health activity but also gives recommendations for a healthier lifestyle.
Most fitness trackers monitor heart rates, blood pressure, walking steps, walking distance, calorie count, sleeping patterns, and many more.
According to Statista, there were 67.7 million wearable shipments during 2020.
Smartwatches :
Smartwatches were launched in 2013, and the modification hasn't stopped. As time goes by, the features of the smartwatch are getting impressive. Smartwatches were invented to make the mobile phone experience easier. Users should expect advanced technology by 2021 for smartwatches.
Smartwatches have all the functions of mobile phones. They help users read messages/emails, access the gallery, get a notification for calls while being away from their mobile devices.
Smartwatches can also help track the health of the users. It can track heart rates, body temperature, and breathing rates. With a suitable app, this technology will allow users to use all the devices in unison.
Prosthetic :
Prosthetics contain hearing aid and artificial limbs that support the physically disabled. With new wearable technology, it will be easier to upgrade prosthetics to make amputees' artificial attachments a near-normal function.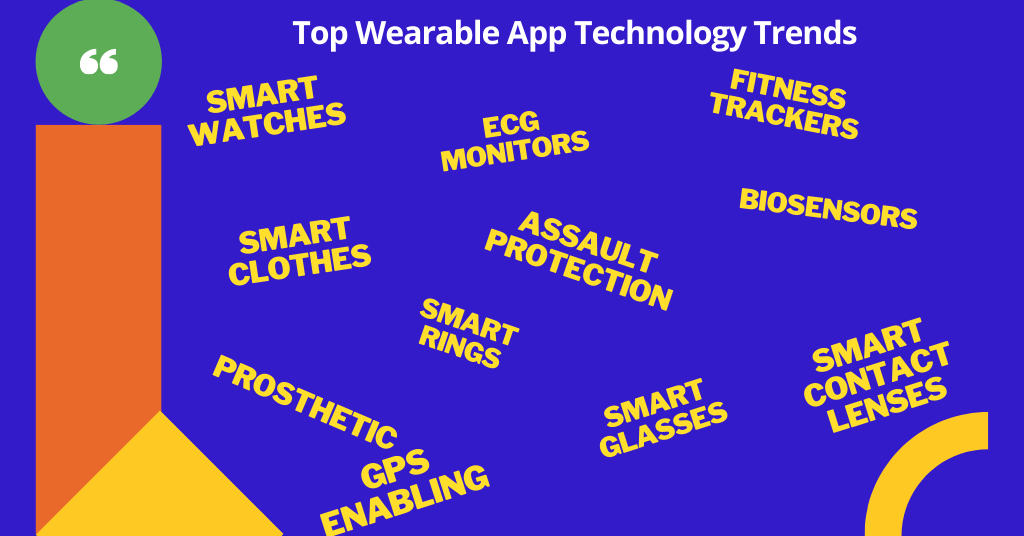 They will respond directly to the nervous system, syndicate brain signals, and follow the instruction you've put earlier. Bioengineers are increasingly looking to create "human-machine interfaces embodied by a prosthetic limb that feel like an extension of the body," said Robert Armiger, project manager for amputee research at Johns Hopkins University's Applied Physics Lab.
Smart prosthetics will ease your day-to-day life by enabling you to fight off your genetic disorders.
GPS enabling :
Today GPS: Global Positioning System is commonly used in various sectors for better navigation such as traveling, food delivery, and many more. So with the advantages of a wearable device, it has become easier to handle because it can be connected to multiple devices.
With built-in GPS, these devices can mainly come in handy for athletes and sportspeople who want to track their running or cycling workouts. Some smart wearable devices have a function that lets the parents set a boundary, so if the child steps out of the boundary, it will send a notification to the parent, ensuring child safety.
Assault protection
The number of sexual assault cases increases at an alarming rate, so the next best technology in a wearable is assault protection. This wearable can be disguised as a watch or ring or a pin to detect the threat and alert the respective person.
App development services have added a feature of adding multiple contacts so that just by a click user's current location gets sent to added contacts within seconds. Also, they can add emergency contacts such as ambulance and police for further legal actions. Even though it is still in use, it is believed that this technology will remain for a long time in the market.
Smart glasses
Term smart glass refers to a device with suitable technology that puts information in front of the users' eyes via a background information system. This display can be projected on the glasses to be brought to eye sights. This user can observe the surrounding environment when there is no need for the information the glasses provide.
Smart glasses have Mic, sound support, CPU known as smart, and projector. The device must be practical enough for a user to manage the system quickly.
Usually, smart glasses are mentioned as Augmented Reality (AR) technology, but it is not the same. Most advanced smart glass can provide details about the surroundings and facial recognition of the person coming towards you.
Smart contact lenses :
Contact lenses are not just to enhance the vision; from now on, the competent contact lenses will perform unprecedented achievements such as projecting a digital display in the eyes and deliver medicines.
You can wear basic smart contact lenses like a regular contact lens; they don't require surgery. They sit on the eyeball and contain micro versions of existing technology.
Smart contact lenses can help in health concerns such as detect allergies, detect damage to the retina, and monitor diabetes and blood sugar. Some lenses offer telephonic connection and telescoping vision.
ECG monitors :
Most of the smartwatches have inbuilt ECG monitors. They collect your heart rate and contact the doctors if there is a sudden abnormality.
These ECGs can detect atrial fibrillation, a condition known to cause sudden irregular heartbeats. Smartwatches with ECG monitors cannot detect possible threats such as heart attacks, but they send the doctors' abnormality to seek help in time. At the same time, ECG monitors can detect that and alert the doctors with specific diagnoses. This is a difference between smartwatches and ECG monitors.
Smart clothes :
Clothing that can monitor physical activity is known as smart clothes. Smart clothes have been enhanced with internally circuited technology that can add functionality to an average garment piece. Most of the intelligent clothes can connect to the application with Bluetooth or Wi-Fi connection to the devices.
These sensors can detect the muscle functionality, strength of the legs, body temperature, heart rhythm, physical moments, and many more.
Biosensors :
Biosensors are the most innovative wearable device that is different from other wearable tech. They have a wide range of applications ranging from clinical to agriculture.
Biosensors are getting more attention due to them providing real-time physiological information via the measurements of biofluids such as saliva, tears, sweat, and interstitial fluids.
Recent app development services have focused on electrochemical and optical biosensors to monitor biomarkers such as metabolites, hormones, and bacteria. Accurate and reliable real-time sensing of physiological information using wearable biosensor technologies will positively impact our daily lives.
Beacon technology :
Beacons are the devices that release radio signals called (Bluetooth Low Energy) BLE that can connect with smartphones accessible in their range.
A wide range of industries wildly accepts beacon technology, let it be healthcare or retail. According to Statista, the market for beacon technology is increasing at a rate of 59.8%. The estimated market value will reach $56.6 billion by 2026.
Beacons use location-based technology to provide a fantastic experience for travelers and retail markets. This technology also helps businesses expand their customer base and provides them with a larger store map.
Payment gateways :
Due to Covid-19, people are opting for contactless payments. You can conduct any delivery with wearable contactless. Designing an app for wearable can be tricky because you have to connect it with the computer system. It would help if you also made the payment secure, encrypt
Customers' data and payment modes.
But as shown, the market is rising for wearable, and it is wise to invest in this technology. According to sources, mobile payment gateways are expected to reach $13.98 billion by 2022.
Helmet for cyclists :
With smart helmets, users can listen to music, use navigation, and attend calls. These helmets are being designed with "bone conduction" for a fantastic experience. It converts sound into vibrations and sends them to the cheekbones that help the cyclist enjoy high-quality music.
Also, these helmets are capable of tracking route, speed, energy, calorie-burning, and pace. They come with built-in LED lights.
Smart rings :
Smart rings are the best wearable tech for the person who spends more time meeting and wants to get notifications without looking at mobile phones. Smart rings give notifications, but they can also be used to keep health tracks and payments.
They can sense health issues and notify the respecting person by activating the panic button for sending emergency helps.
These rings can be tracked via GPS and can access other devices and cars.
Smart belts :
Smart belts are mostly invented for older people and people with walking disabilities. It can track the walking pattern of a person and can sense the fall if it is disrupted. It simply checks the speed, and if it's inconsistent, it notifies the caretaker.
They can be connected to phones and gather all the data. If they detect any issue, it sends a warning to devices. These belts look like regular belts while having all the functionality.
3D printing/bio tissues :
3D printed wearables are in high demand for medical devices. With the help of 3D printing, shoe soles can help estimate diabetics' sensory perception. 3D prints are being used in medical facilities, biotech companies, and educational institutes. Businesses are investing in the research and development of 3D printing medical equipment.
Conclusion
The mobile app development industry is constantly growing. Staying up-to-date is the prime aspect of this space. App development has moved from primary mobile app development to tailor-made and highly efficient wearable app development. Almost all industry verticals use wearable apps.
Wearable app development services work efficiently to make the necessary changes and ease our lives with the handiest technology. As wearable technology is rising, one day, we might not have to carry our mobile phones and other devices along with us everywhere.
If you are seeking reliable and expedite app development solutions, Sysbunny is the best option for you. We stand among the top app development companies that offer customized app development services to different business entities. Our team is proficient in both iOS and Android app development services.