Welcome to the World of Wearable Apps!
As the second decade of the 21st century knocks our doors, we are witnessing an unimaginable boom in the arena of wearable app technology. Every Wearable app development company is thriving to set new benchmarks with each passing day to take the IoT technology to the next level.
Wearable technology is becoming a way of life for thousands of smart device users across the globe with splendid prospects in the coming future. This has led to the development of numerous wearable applications, which are making our lives simpler and better.
These wearable apps possess astounding capabilities and have a usage in diverse arenas, making them popular among people from almost all walks of life. Wearable apps are proving indispensable in several fields like Sports, Traveling, Fitness, Healthcare, and Education.
"As of 2019, there are 722 million wearable device users worldwide with an expected surge of a billion by 2022."
Click To Tweet
By giving the most innovative solutions for many of the problems that occur in our routine life, wearable apps are grabbing the greatest attention among the IOS and Android users. Wearable app development can be aptly termed as the "Shining Star" of the whole app development world.
These apps can be accessed via advanced smart devices, including Smartwatches, Smartapparels, Fitness trackers, and Wearable medical equipment.
Let us venture into the domain of top wearable apps, which will prove to be the blockbusters for the year 2020 on the iPhone and Android platforms.
1. Spotify
This immensely loved mobile app is now usable on both Android and IOS-driven wearable devices. If you love listening to great music on the go, the Spotify's Wearable device version is what you need. Without the need of always holding your smartphone, you can access your musical list via a smartwatch such as the Android Wear.
features:
The Spotify version for Wearable devices allows you to perform almost all the standard features available on mobile devices.
Relish fresh music as per your need using just your Smartwatch. You can create a playlist of your favorite songs and share it with buddies.
It even allows the shuffle mode to experience new surprise music with just a touch on your wearable device.
2. Citymapper
For finding the way to a new destination or exploring any place, we always rely on our smart phone's applications. With the Smartwatch mode of Citymapper, you can quickly and conveniently access in-depth information about your current town or city. It is a boon for traveling enthusiasts and tourists who love to wander to new places.
features:
One of the best features of Citymapper is the ability which helps the user to find convenient modes of public transport in the city they need to travel. For example, you can look for bus schedules and track their live location.
Gives you details about the nearby Uber cabs to help you find a quick ride.
The app can also create an organized system of modes of different transportation that you can use to journey to the desired location.
3. Sleep as Android
In this stressful, fast-paced lifestyle, a good night's sleep seems quite tricky for a large chunk of the populace. This wearable app designed for Android devices works very soundly to track your sleep patterns and enable you to have a sound sleep.
features:
On your Smartwatch you can keep track of small movements and disturbances caused while you are asleep.
It helps to gauge the period of REM or the Rapid Eye Movement stage in your sleep.
This app has efficient wakeup sensors and provides you a sleep score to analyze the quality of your sleep.
Sleep as Android even has a system for recording sleep sounds and snoring detection.
"Smartwatch is currently leading in the game of wearable technology with an   estimated 109 million to be sold by 2023."
Click To Tweet
4. Bring
Plan and organize your shopping list with this smart wearable app designed to allow you to input the data using your wearable device. Sort out your grocery shopping list using the options provided on the app with just a tap on your Smartwatch.
features:
It comes with the ability to save membership and loyalty card records at the same place, along with the shopping details.
Allows the user to share the shopping list created with family or roommates.
You can easily add or remove any item from your list by your voice input through the sound transcription feature on this app.
5. Calm
Allowing ourselves due relaxation is key to a healthy life. Proper meditation and the right amount of sleep are essential ways to relax our mind and body. Calm is an amazing wearable app for android users, which helps to inculcate reliving meditation practices in our schedule.
features:
With a range of therapeutic music and sleep stories, it allows you to have a better sleep.
Using calming images and sounds, and by eliminating distraction, it allows you to meditate and unwind.
It has a series of breathing exercises that are used as part of meditation and lowers the stress inside you.
6. Parking
With the number of vehicles on the roads increasing in multitudes each day, finding the right parking spot puts everyone in a fix. With this cool app, you can spot out the correct parking zone for your vehicle without any hassle.
features:
Parking has a single-click parking spot reminder coupled with efficient map integration.
Keeps a record of your parking history to help you relocate your parking place quickly.
Enabled with Connectivity to your vehicle's Bluetooth to permit automated parking detection.
Different navigation features are usable through the parking app.
7. Seven Minutes Workout
This app has become a rage among many health-conscious users who are seeking weight-loss and fitness assistance. Compatible with your Smartwatch, this workout app will act as your Gym trainer who will motivate you to shed those extra kilos. It has 12 High-intensity exercises with adequate rest periods to ensure a great workout.
features:
The user can keep a count of his workout duration with voice-prompted timer settings.
This app has an integration with Healthkit for the best health results.
It has a detailed written as well as video description for all its exercises.
It provides you an advanced workout schedule compatible with your physical needs.
Conclusion
Undoubtedly, Wearable apps are the most advanced form of applications in the present scenario. There is increased competitiveness in this emerging industry, with new apps arriving almost diurnally. Developing these apps requires the right set of skills and experience. To create a satiated user base, a wearable app development company needs to understand its client's needs accurately. Excellent service to your customers via your wearable app is what you need to take your endeavor further.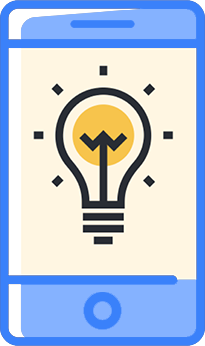 Have an Idea?
Do you want to expand your business by creating your own super wearable application and seek the right expertise for the same? Just contact us to find the perfect fit for fulfilling your wearable app development needs.
Contact Us
or
Email Us