Mobile phones have brought the entire world to our fingertips. With a single click, we can get the majority of our tasks done. Mobile phones not only connect people, but they also make our lives convenient.
Today, we have numerous mobile apps that ease our lives. Custom mobile application development platforms allow users to develop their apps for mobile devices. Every business, regardless of its size, has started to develop its own mobile apps. Thus, it is essential to have an app that stands out in the market.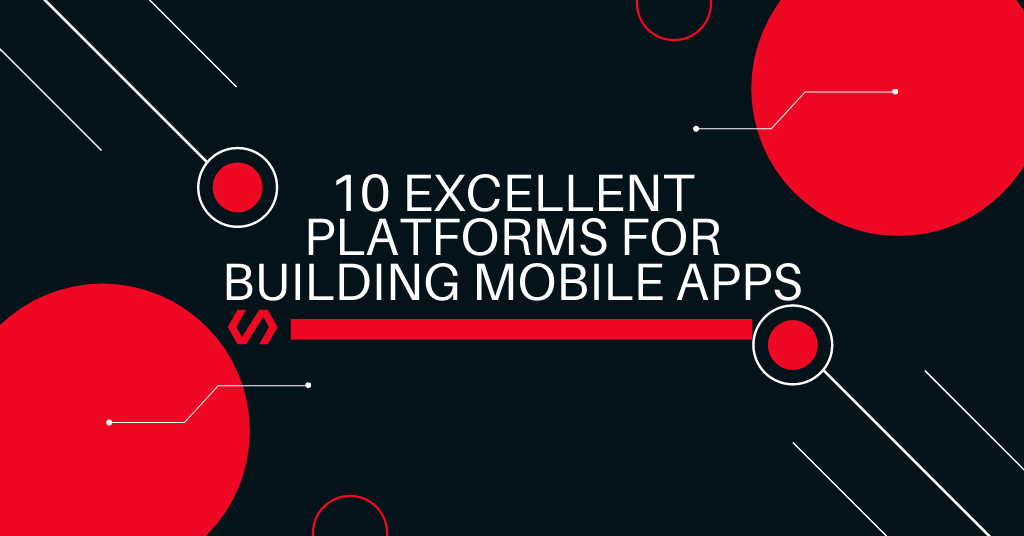 It only takes one great idea to develop the app of your dream, but many businesses still cannot impress the customers despite the successful website. In 2019, almost 25 percent of mobile apps were abandoned after the first use. Therefore, it is essential to know all the aspects of mobile app development. 
The first step of mobile app development is to choose the right platform. There are numerous platforms available in the market; thus, it is challenging for businesses to select one for their project. You need to choose the app development platform according to your business requirements.
Here's a list of 10 Excellent platforms that can help you build the perfect business application.
This article highlights ten excellent mobile app building platforms you can choose from. With the proper mobile app builder, you can get the perfect app for your business and enhance your customer experience. You can create an excellent and engaging app by hiring a mobile app developer Company.
1 The App Builder
Apps Builder comes with an intuitive dashboard and editor, which users can use to scale images and easily add logos and effects as the image is dropped onto the page. Users can add numerous features to the pages, such as loyalty tools, eCommerce, calculators, maps, etc. The app builder offers tools for social media and restaurant websites. Also, they provide various free resources, such as eBooks, templates, case studies, and articles.
TheAppBuilder collects suitable apps for employees, clients, and events, with two different approaches.
With the help of AppLibrary, you can provide your users with a window into multiple apps and customize it according to your preferences. You can ensure the safety of public and private apps with usernames and passwords and allocate them via the app store by using TheAppBuilders' Active Directory integration to only allow user login with existing IDs groups.
TheAppBuilder lets you make unlimited updates and broadcast them on multiple platforms simultaneously, making it easier to regularly update your app's structure and content. It supports the native iPhone, iPad, and Android, with updates going live within 60 seconds of succumbing to a modification, making it incomparable to the other platforms in the market.
2 Good Barber 
Good barber is an app-building platform that allows users to build iPhone and Android apps and web applications. You can control every aspect of your app without learning the coding. Good barber offers highly customizable design templates to get started, and along with that, they provide plenty of icons and access to Google Fonts.
Your readers can submit articles, photos, and videos, letting them convert into contributors. Good barber enables you to organize your app by adding the sections, such as videos, photos, sounds, live events, etc. 
3 Mobile Roadie 
With Mobile Roadie, you can create and manage your iOS and Android applications. Their app development process is very transparent. You can preview your app accurately through Mobile Roadies' backend, just as your users can use the app on their devices. 
The Mobile Roadie team will help you learn the app store submission process by checking the value and sustainability of your content. This app platform offers push notifications, such as your website content, via the platform itself.
The platform as a whole is language-agnostic so that you can pull data in various formats, including XML, JSON, CSV, and HTML. 
4 Appy Pie 
Appy Pie allows non-tech users to create their mobile apps on any platform they want. Users don't need to install or download anything, and they need to drag and drop pages to create a mobile app. You can create an HTML5-based hybrid app that can work on all platforms, such as iOS, Android, Windows, and PWA.
You can integrate social media feeds, blogs, websites, radio, etc., and send push notifications, see live analytics, and track locations with GPS. This platform offers different themes, from a restaurant to a radio station. They have a separate tool for appointment schedules with a one-touch call feature, which is extremely useful for healthcare sectors, salons, spa, and dine-in restaurants. You can embed custom codes and iframes by using the code page. 
5 AppMakr 
AppMakr lets users build iOS, Android, and HTML5 apps, despite coming from a non-technical background. Initially founded in 2009, infinite Monkeys currently acquire AppMakr. They claim that they are the authentic way to make an app and develop an application in just twenty minutes. According to the user requirements, they are cost-efficient and offer a free plan, which can be changed into a monthly or yearly program.
AppMakr offers unlimited updates, features, such as push notifications, live updates, music, and video streaming, chat rooms, shared calendars, in-app shopping, and many more. It gives a choice to modify the app design by providing numerous building blocks. It allows you to build as many apps as you want. You can easily customize your app's functionality, add content, keep track of all your apps, preview and publish it to the market in a single click.  
6 ShoutEm 
ShoutEm is an app builder that offers comprehensive content management, powerful user engagement tools, and monetization alternatives. With the help of these facilities, you can get a robust solution for the entire app development process. This app builder offers numerous customization options. Also, each app can be integrated with existing content sources such as WordPress, Foursquare, Facebook, Twitter, SoundCloud, etc.
ShoutEm offers multiple monetization options that can help you create revenue from your app in a short period and provides eCommerce experience, in-app subscriptions, deals, and coupons.
7 Bizness Apps
Bizness app lets users develop apps for their business with a simple process. It offers numerous features, such as eCommerce, push notifications, third-party integration, food delivery, shopping cart, reviews, messaging, comprehensive analytics, and many more.
They have a user-friendly content management system that allows users to create a business app in minutes and customize everything with inbuilt designs or their preferences. It will enable them to see the real-time previews of their developing application.
BiznessApps offers an easy way to create promotional materials. They conduct weekly webinars on how to build any mobile app using their platform. This platform provides access to numerous tutorials and training resources. Thus, users can easily update their apps and modify them without sending their app to go through the lengthy updating process for Apple stores or Google play store. They also provide real-time previews to check your apps' progress during the designing and development stage.  
8 GameSalad 
As the name states, GameSalad is special software that allows users to develop and publish games for various platforms, such as iOS, Android, HTML5, and OSX. Due to its drag and drop interface approach, users can quickly start developing the game without any programming background. It also lets users learn computer science during the development process.
This app builder provides features, such as a scene and actor editor, to spend most of your developing time setting up actors and creating attributes, images, sounds, and navigation between the actors. They have a unique online community that advises fellow independent game designers.
GameSalad has two plans, one for educators and another for developers. But it allows you to develop a game without writing a line of code.
9 Appery.io 
Appery is based on cloud technology that you can use to make Android and iOS applications, including Apache Cordova, Ionic, and jQuery Mobile. Appery offers complete access to built-in components.
As the builder runs in the cloud, you don't need to install or download anything and quickly start your project. It has a visual editor that uses drag and drops components to build the UI. This builder auto-generated the code for your components. If you need to store data for your app, connect to any REST API, use it in your app, and instantly add a cloud database and backend to your app.
With the Appery plugin, users can add powerful functionality or create custom private plugins to use in their apps.
10 AppInstitute
AppInstitute lets small business owners create apps for various sectors like beauty salons, Radio stations, sports and fitness, coffee shops, etc. They'll guide you through launching, promoting, and launching your app. AppInstitute lets you have complete brand control. AppInstitute is the best platform for small businesses to build their apps. You can provide a calendar and appointment system for upcoming events. You can also offer plenty of media regularly.
It provides features, such as push notifications, messages, social media integrations, Geo-locating, Loyalty programs, and online payments. It offers online chat support for customer's feedback and quarries.
Conclusion
In today's challenging market competition, having a mobile app has become essential for every business. Usually, no programming skills are required to build applications, but users need to know if they want to get their application published in the app store or play store. People enjoy the app when it is easy to navigate and has high-quality graphics. Having a fantastic idea is not sufficient for building an app. That's where these app builders come into play.
Numerous app builder platforms serve various purposes, such as multi-platform apps, zero coding skills, complete brand control, etc. Most of these app builders are cost-efficient, and some of them offer a free plan and money-back guarantee. You can choose your app builder according to your preferences and project requirements.