Smart phones have a huge impact on human life as it not just facilitates communication but also offers many features for a better living. We no longer need alarm clocks, watches, calculators, schedule diary and other necessary things as the phone gives it all in one instrument. With the innovation in technology, mobile app developers are coming up with new age applications designed and developed to perform specific tasks.
In fact, studies suggest that US venture capitalists show six time more investment in AI projects from the year 2000. It is being used in all areas like healthcare, security, education, data processing, mapping and HR systems to name a few.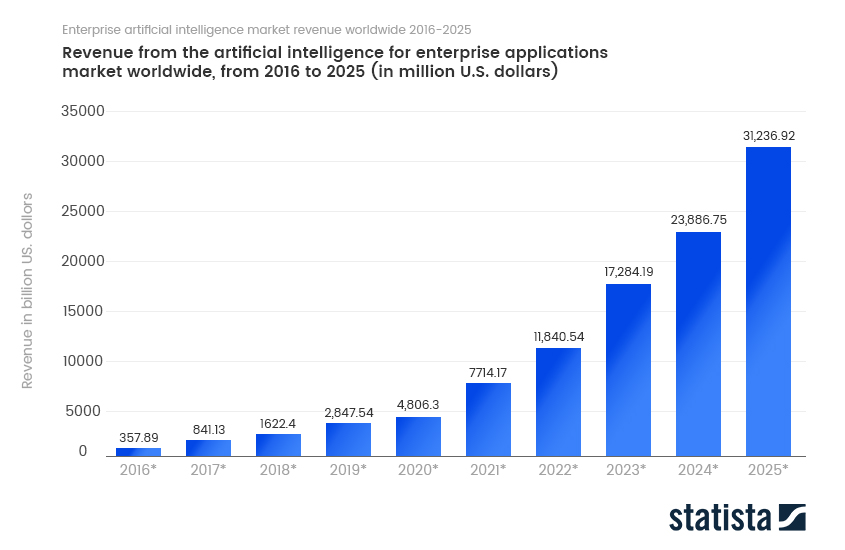 More and more enterprises are investing in Artificial Intelligence apps to boost their productivity and simplify their work as well as decision making. According to the reports of Statista, the global revenue generated from AI enterprise apps shows a 52.59% CAGR and is estimated to grow from $1.62 billion in 2018 to $31.2 billion in 2025.
This gigantic growth shows the demand of AI applications with every passing day. There are plenty of AI apps for smart phones which work their magic around the users to give them exceptional results. As the demand increases so does the projects and iPhone app development service providers as well as Android developers come up with futuristic apps.
Statista predicts 52.59% CAGR in enterprise Artificial Intelligence apps which would push revenue generation from $1.62 billion in 2018 to $31.2 billion in 2025.
Click To Tweet
Today, let us check some of the most popular AI apps and how the facilitate the users with so many benefits.
Check top Artificial Intelligence apps that made a mark in 2019
Fyle – Your ideal Intelligent Expense Management App!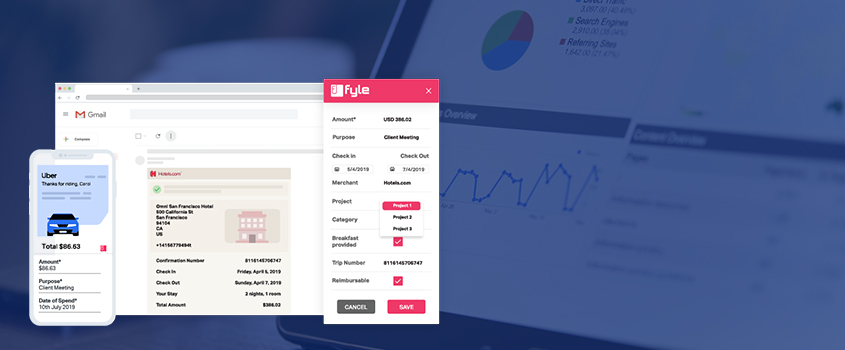 Available for iOS and Android platforms, this one is a business utility app for managing the expenses of an enterprise. With this app an employee can easily track, scan and upload the documents related to any kind of expenses made in the company. The AI powered engine of this app can easily extract all information about finances from email systems like Gmail and Outlook. The process of automation of expense management gets completed with mileage tracking and receipt catch.
It also manages the process of reimbursement by connecting with the accounting software. This one is considered the best AI app of 2019 in the realm of expense management as it offers a real time experience by generating one click cost reports to increase the productivity and decision making of an organization.
ELSA – The app for efficient English learning!
English Language Speaking Assitant or ELSA is Android app designed for people who cannot speak the english language. ELSA is a wonderful tutorial app for people whose native language is other than english. People across the globe travel from one corner of the world to another. They need to learn, pronounce and communicate in english, as it is the most widely accepted language on a global level.
ELSA helps its users to learn pronunciation and tonality of words within a month. The users can track their growth with a report generated by this AI equipped mobile app. Therefore, anyone wanting to learn english can simply download ELSA and start their classes at the earliest hour. They don't need a tutor and still get proficient in english without any time constraints and travelling hassles.
AI powered ELSA app has around 4,462,000 downloads with 2,250,000 lessons covered and a 4.5 rating from 23K users. It is truly the most effective english teaching app of 2019.
Click To Tweet
data source https://elsaspeak.com/home
Google Allo – the voice to text app for iOS and Android!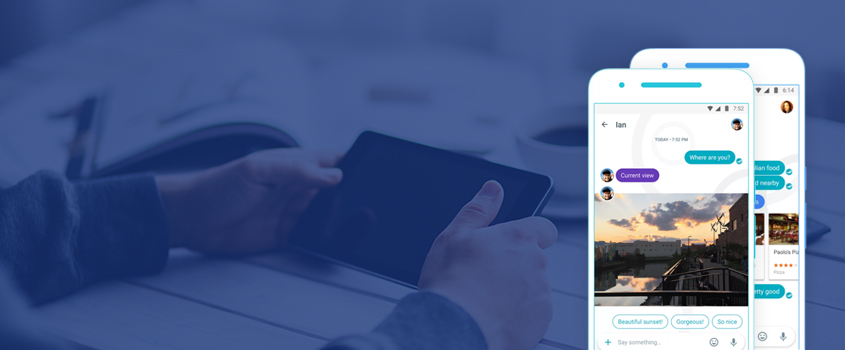 Well, everyone goes through times when a voice message works quicker than text. However, the receiver may miss it due to the habit of communicating on text. Google Allo makes life much easy for all those busy kinds who prefer voice notes to be converted to text. It also has a wide range of emojis, stickers and GIFs to express themselves effectively. Sometimes, these smart voice features add humor to the conversation and make it light. Available for both iOS and Android, this AI app should be tried by one and all.
Answer Rocket – For answers with detail reports!
This AI powered app efficiently processes search based data and generates meaningful information in the form of report. Highly recommended for enterprises, this app just needs an input in the form of normal question in a human language. It then converts it into machine language to extract data from the relevant sources and converts it into information in the form of detailed reports.
Users actually get charts as well as reports that are easy to understand. It thus helps in analyzing the business, check its performance, design strategies for improvement and monitor productivity. It performs all the tasks that need to be done by a business analyst to give a fool proof report for the query. It is available for both iOS and Android downloads.
Seeing AI – designed for blind people to interact with their environment!
Considered as one of the most helpful AI powered apps of all times, Seeing AI facilitates the visually impaired people to know, understand and interact with their surroundings. This app has a smart camera which scouts for people, place, cars, objects, signs and written text. It then alerts the user by processing the sign language from roads as well as hoardings to make sure that the user understands the surrounding well.
It also gives a clear idea about weather plus situation around it. As a cherry on the cake, it actually recognizes emotions so that blind people can understand the reactions of people around them. This one is an iOS baby!
Polyword – to identify objects in multiple languages!
This app is as much an entertainment as its a learning experience. The user can just set the camera towards the object and select the language. Polyword would offer real time translation of the object in the language selected. This highly useful app is available for both iOS and Android users.
Clara – best business utility app!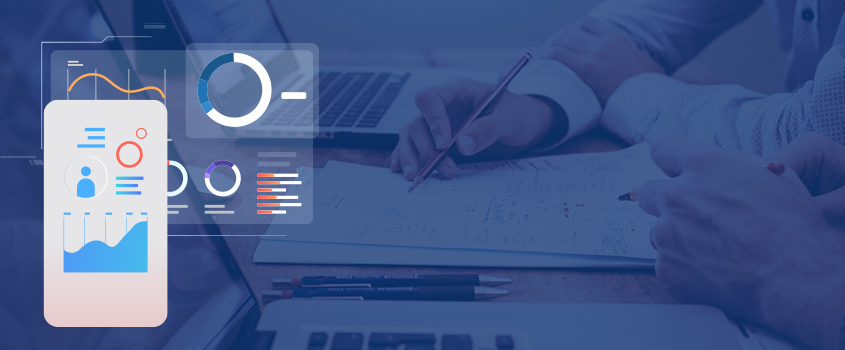 Clara, powered for both iOS and Android users is considered as the ideal business utility app. This one can help you schedule meetings, offer client interaction, generate reminders, track follow-ups and even book a conference room for meetings. In addition, the user can use Clara to communicate with the participants in case of rescheduling the meeting. Simply put, it automates the process of business meetings, their scheduling tasks as well as the outcomes. Highly useful for the business class, the app certainly made heads turn in 2019.
Stanford University reports claim that the number of AI startups has increased by 14 times since 2000. Even venture capital investment in AI projects has increased by six folds.
Click To Tweet
data source www.forbes.com
Conclusion
Above mentioned are the AI powered apps that made a strong presence in 2019. Giant research universities like Stanford claim huge investment in AI projects in the near future. It reveals data suggesting excessive use of AI technology by startups and enterprises.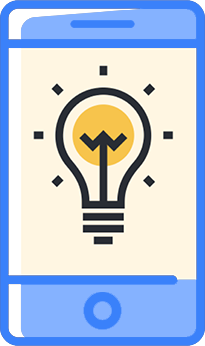 Have an Idea?
There are various other apps that provide lucrative results and our experts will keep you updated timely. Sysbunny has assisted businesses by solving complex business challenges for more than a decade now. Get in touch with us to improve your business for higher productivity and profits.
Contact Us
or
Email Us
Check out the top Artificial Intelligence apps of 2019. These mobile apps facilitate business utility, individual usage and enterprise productivity by giving effective results.
Click To Tweet