Introduction
Every new organization needs to spread awareness about their brand in the market and in order to do so mobile applications can be of help. As technology advances, there are new innovations on a daily basis and it is important for businesses to stay updated and adopt these technologies. This ensures that the business remains relevant to the users in the market over the years and creates a brand value of importance.
The current market is huge and there is cut-throat competition in every field/industry. In order to evaluate this it becomes necessary that every business creates a unique mobile application or web application to gain the users attention and keep them interested in your business. Mobile Application Development Company know the best ways to design a sustainable app for our business.
"By 2020, the number of smartphone users is projected to reach 2.87 billion. This is a huge market to focus on."
Click To Tweet
Owing to the fact that applications get frequent updates, it gets hard for new businesses to meet their aggressive objectives. Regardless of whether it's a web application idea or a mobile application thought, they have to thoroughly consider all the requirements of the users as well as the features that the business wants to incorporate in the application. Just with an answer driven application idea, they draw in a bigger client base, streamline and robotize business forms, improve change rate, and lift income stream.
Being a business, you have to offer something unique to build your brand image and visibility in the market. Be it deciding on a proper structure, working with the most recent innovation or figuring out an amazing plan of action, your business needs to target as many users as possible. The bigger the impact an application can provide the better chances it has of doing well in the market.
Many web development companies have hit the market to assist you with this. Figuring out the best company that caters to your needs and understands your vision and is able to create an application within your budget limit is what you need to do.
"Among Top 1000 apps and mobile websites, apps have an audience 2.5x as big as mobile websites, and that audience is growing twice as fast."
Click To Tweet
So, plenty of people are now prepared to use web applications that are accessible in the computerized space but they appear to be excessively confusing for users to finish their planned activities. Due to this, organizations have now begun to design custom web applications to gain online presence.
Here are a few app ideas for startups in 2020 that would help you out
1.Chatbot for Customer Support
Chatbots have been deployed by many organizations to cater to their client's needs 24/7 and that has boosted the business. This is a field where you can venture in as chatbots are the future for online businesses and the need for it shall only increase over the years. Hence, if you are a startup you could possibly consider working on chatbot in various industries to replace human work saving time and reducing expenses.
2. Astrology using Machine Learning
Astrological predictions is not an easy task and for it is important that it is accurate otherwise people would not be interested. AI based Astrological predictions can provide people with real time predictions and they do not have to actually visit an astrologer, makes life easier. This can be a good idea for startups mobile app development as it could be profitable and there are not many applications catering to users in this field.
3. Youtube Radio
In an era where video content is going viral and Youtube is a popular platform where content creators add videos and music. This idea can be promising and achievable with low investments. If you create an application that helps the users to pick the top most watched content on youtube and plays it then there is no need to search and create a playlist. Every time you want songs all you need to do is play the radio and you can start the party anywhere.
4. Blockchain Based Medical Support
As population increases, there is also an increase in illness and there are various ailments that even doctors are unable to find cures for, so in order to know about these ailments and to check out the cure for the same we can use blockchain technology. A web portal that connects the patients and helps them find a cure.
5. Dating and Friendship
Online dating and finding friends with similar interest has become very popular now. There are various applications in the market that are doing this. A user needs to feed in their details, likes, dislikes along with a photograph so that they can be matched with other similar people and they can casually decide to meet offline or continue conversing on the online application. These apps have taken the market by storm and with a huge young audience across the globe, it seems to be a great startup idea.
6. Browser Tracker
An application that has browser plugin to track the activity of employees and if any suspicious website is opened the admin gets notified. The application can also have timers that ensures that a user does not use a particular website for a long duration of time. This app can also be used by families who wish to impose Parental Control on devices used by their children. It would help parents keep an eye on what their kid is browsing on the Internet and take necessary actions if needed. 
7. Reminders
Due to a busy lifestyle, people tend to forget important things in life. Sometimes they even forget basic things like drinking water or buying grocery on their way home as their schedules keep their mind occupied elsewhere. Hence, an app that reminds you about certain things that you need to do on a daily basis is quite beneficial. This application will be used by all age groups and is another great startup idea.
8. Memes and GIFs
These days Memes and GIFs are gaining massive popularity on the Internet. Designing a web app where people could look for funny memes and interesting GIFs and create their own personalized options would be an interesting startup idea.
9. Book Review Platform
There are millions of book lovers across the globe and there are numerous books written and published each year. It is not possible for a person to have read all the books and some people take their reading hours seriously hence wish to invest their time in a productive and interesting book. So, designing an application where there are thousands of people who can write reviews of books they have read which could help other people decide on which book to buy and read.
10. Workflow Management
The construction industry has employees at various levels and requires management of data related to properties. There are various documents like land approval papers, construction permit and various government proof that are required in order to complete the process of construction. An application that could store all this information would be very convenient.
Further, if the application has a custom workflow management feature then it would become easy to raise Request for Proposal, generate invoices, manage tasks, get real-time updates about the application approval, and more. Enabling employees and customers to receive real time updates, the app permits them to take necessary actions to evaluate the progress of the task in hand.
Startups can pick any of these ideas or if there is a unique idea then even that can be explored and when the idea is properly conveyed to application developers it could be a successful application.
Conclusion
All you need to do is take a pen and paper and write down the ideas that come to your mind. Make a list of the requirements and figure out the budget you have.
The best web app idea can really influence the users and create visibility for your startup. It is necessary to do a market research to find out what is the demand so that you can create an application that caters to the demands of users which would attract them.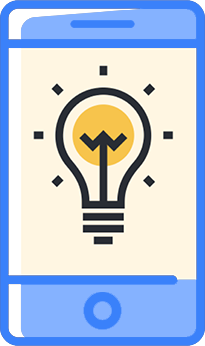 Have an Idea?
Sysbunny can design a powerful web application for your business, all you need to do is share your ideas with our team and wait for them to create the app.
Contact Us
or
Email Us