Augmented Reality Mobile Application is the next game in the mobile app development industry. AR apps are trendy in 2017 and have high prospects to remain on the top of innovative tech stake beyond 2017.
Businesses and industries are heavily investing in 
mobile application development
 using the current technologies and trends. It is believed that nearly 20% of existing apps would render useless by 2020. The real culprits behind it are cost and user engagement. Cutting costs is not always possible when quality is at the center. Therefore, it is the user engagement factor that can be key to raise ROI.
Two tech trends favor user engagement greatly, and those are Virtual Reality (VR) and Augmented Reality (AR). Out of two, Augmented Reality is stable and full of potentials to sustain for a longer period than VR. We have already discussed what AR is and how it works and contributes to the modern tech revolution in our previous series on AR.
Must Read : The Birth and Juvenility of Augmented Reality
The market experts believe that by 2020 the AR industry would be worth of $56 billion.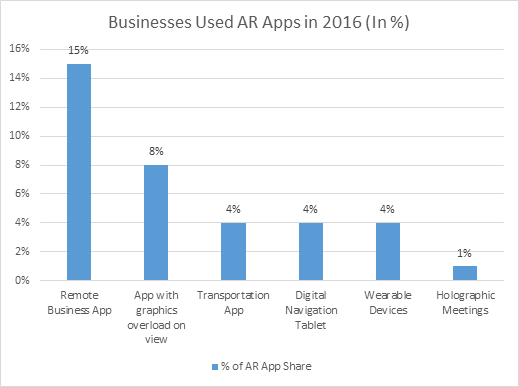 AR Apps Businesses Used in 2016
The share of a remote business AR app is 15% that the highest.

The AR apps with graphics overload on camera view have an 8% share.

The transportation AR apps have a 4% market share, and the same goes true for digital navigation tablet AR apps and wearable AR apps.

The AR apps used for holographic meetings share only 1% of the market.
If we look at the graph above depicting how various organizations used AR applications in 2016, we can imagine the potentials of AR in coming years.
Investment in AR App Development
When we look at the investment point of view, AR technologies are posing a glorious picture on the horizon.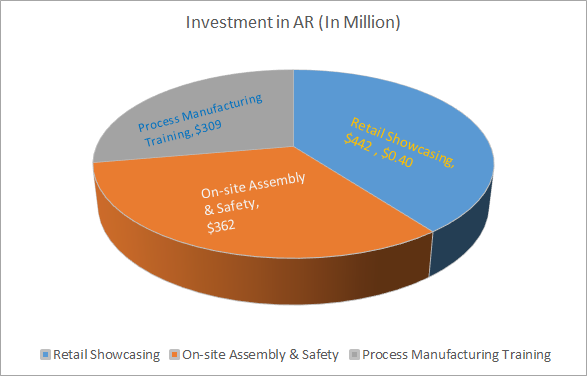 Process Manufacturing Training sector will invest in 2017 and beyond – $309 million.
Retail showcasing sector will invest in 2017 and beyond – $442 million.
On-site Assembly & Safety sector will invest in 2017 and beyond – $362 million.
AR App Market Share by Industries
If we look at the percentage wise industrial investments, the picture would be: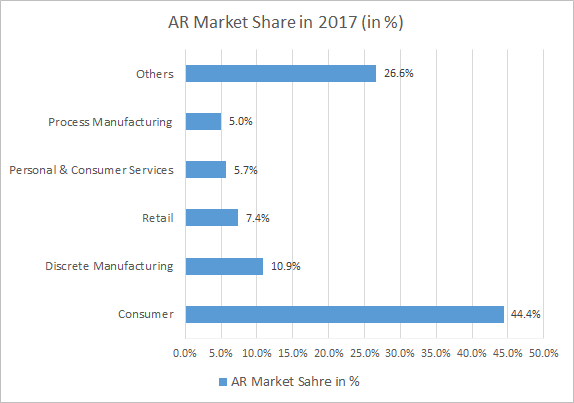 The consumer app has the highest market share with 44.4%
Discrete manufacturing niche with 10.9%

Retail with 7.4%

Personal and consumer services with 5.7%

Process manufacturing with 5%

Others with 26.6%
Technically, various 

hardware is used in the Augmented Reality technology

 sector like head-mounted sets, smart glasses, smart lenses, smartphones, and tablets.

However, smart handheld devices have most of the essentials required to render the AR application like the camera as an input device. The digital screen renders the virtual object over the images/videos taken by the camera.

The touchscreen to monitor and operate the virtual object. The GPS capabilities to provide location data. The accelerometer and gyroscopes like sensors and much more to say.
AR Market Share by AR Products in 2016
Therefore, mobile devices with AR capabilities are highly famous and used the most. The following data from a survey support the statement.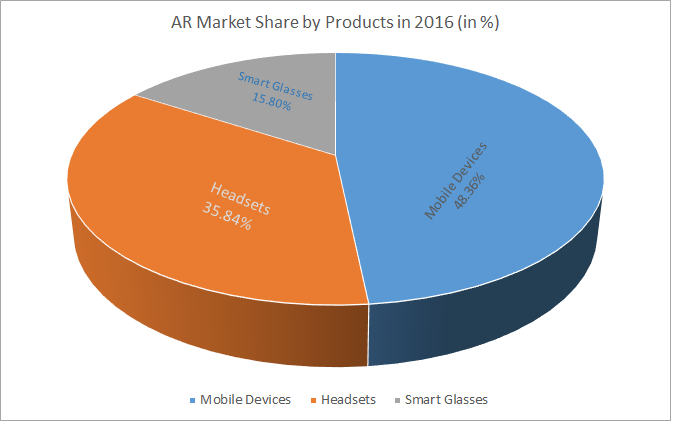 The market share of mobile devices is 48.36%.
The market share of Headsets is 35.84%.
The market share of Smart Glasses is 15.80%.
Must Read: The Useful Augmented Reality Apps
Industry-wise Trends of AR Mobile Applications
The AR applications are penetrating tentacles in almost all industries and rocking high in nearly two dozen niches.
Augmented Reality Apps in Retail Industry
The retail industry is benefiting the most out of the AR technology revolution, and various apps are emerging in different mobile app marketplaces serving multiple purposes, such as:
Product preview apps like the Lego app

The AR dressing room apps like the app by Topshop & Kinect

Makeup and beauty style apps like Burberry Beauty Box and AR Mirror app by Shiseido

AR furniture selling app by IKEA

ZeeKit by Rebecca Minkoff for clothes and accessory niche

Color changing AR app by American Apparel

Fitting AR app by De Beers on Forevermark Fitting site

AR shoe sampler app by Converse Sampler
Augmented Reality Apps in Gaming Industry
We know the AR-capable Pokémon Go game, which has generated $950 million in revenues with 21 million active users. In 2012, Niantic had released Ingress as a multiplayer AR game and generated 11 million downloads.
Thus, gaming AR apps have a big and bright future that none can deny it. It is because the AR app brought people out and socialized and entertained them in the real sense.
Augmented Reality Technology Market Trends
AR Acquisitions
: Apple has acquired AR startup Metaio, and Google has Flyby Media. AR display marker company Lumus Ltd has raised $90 million for R&D
AR Product Support
: AR-assisted repairing and maintenance is getting traction, and companies like new ways to serve the customers.
Apple Supports AR
: Recently, Apple has released the iPhone and iPad to deliver AR experiences by supporting hardware, sensors, and iOS level.
Google focuses on AR
: After failure on Google Glass, Google has partnered with Lenovo for mobile AR platform Tango and started R&D as well as the development of AR hardware & software.
AR Capable Smartphones
: As discussed earlier, Google with Lenovo will release Phab2 Pro as AR capable smartphone designed around AR architecture.
Automotive AR HUD Displays
: Hudway is experimenting with smartphone-based HUD technologies. Thus, we can enjoy projected speed, direction, alerts, and vital info on the windshield of a car while driving without looking anywhere else.
AR-based Marketing
: Lowe's, an American home-improvement company, has released an AR app to enable its potential customers to see flooring, appliances, and various store products.
AR-based Chipsets
: Recently, Qualcomm Snapdragon has developed AR-centric chipsets to power the AR devices.
AR Headsets
: CastAR is an augmented reality headset, and Snapchat Spectacles are going to famous AR headsets in the market.
Must Read: The Outlook for Tomorrow of Augmented Reality
Finally, following brands are already using AR apps in the market.
IKEA
Domino Pizza
Starbucks
WalMart
Cadbury
Volvo
Conclusion:
We have explored the latest statistics and trends related to AR technologies and AR applications on mobiles. We know Augmented Reality technology is gaining momentum because it has a novelty factor, tech-advancement, and unlimited other benefits including engagements.
If you are ready to invest heavily in AR application development, SysBunny can help you to provide right consultancy services and Augmented Reality App Developmentservices in reliable ways.