UX is a core attribute of a mobile app success and saving from the common UX pitfalls means better and sustainable app design if you take care of UX diligently. Pinpointing on UX nuances may enable mobile UX design team to deliver high-end and high-quality mobile apps.
Introduction:
In early days, mobile app development industry has a little awareness of user experience like a thing, its significance, and how to do it. Once the app economy had started buzzing in the market, researchers had started digging success factors for a mobile app. Statistical analysis has coined one significant term for app developers, and that is- User experience or UX in short. By definition, the app user experience (UX) starts at the moment when a user begins interactions with the app. Thus, UX is always moving around the user interactions and things involved in it. Therefore, while designing UX –
The first priority goes to User Interface (UI) design – UX Optimization
The second to navigation because it defines the UI/screen flow means how smooth the user journey – Performance Optimization
The third is the path to CTA to achieve the goals of users as well as the app – Conversion Optimization
Based on the things described above, anyone in the software development industry can say that UX experience design or development is not a job of a UI designer alone rather UI designer is seemingly a beginner of the UX design process.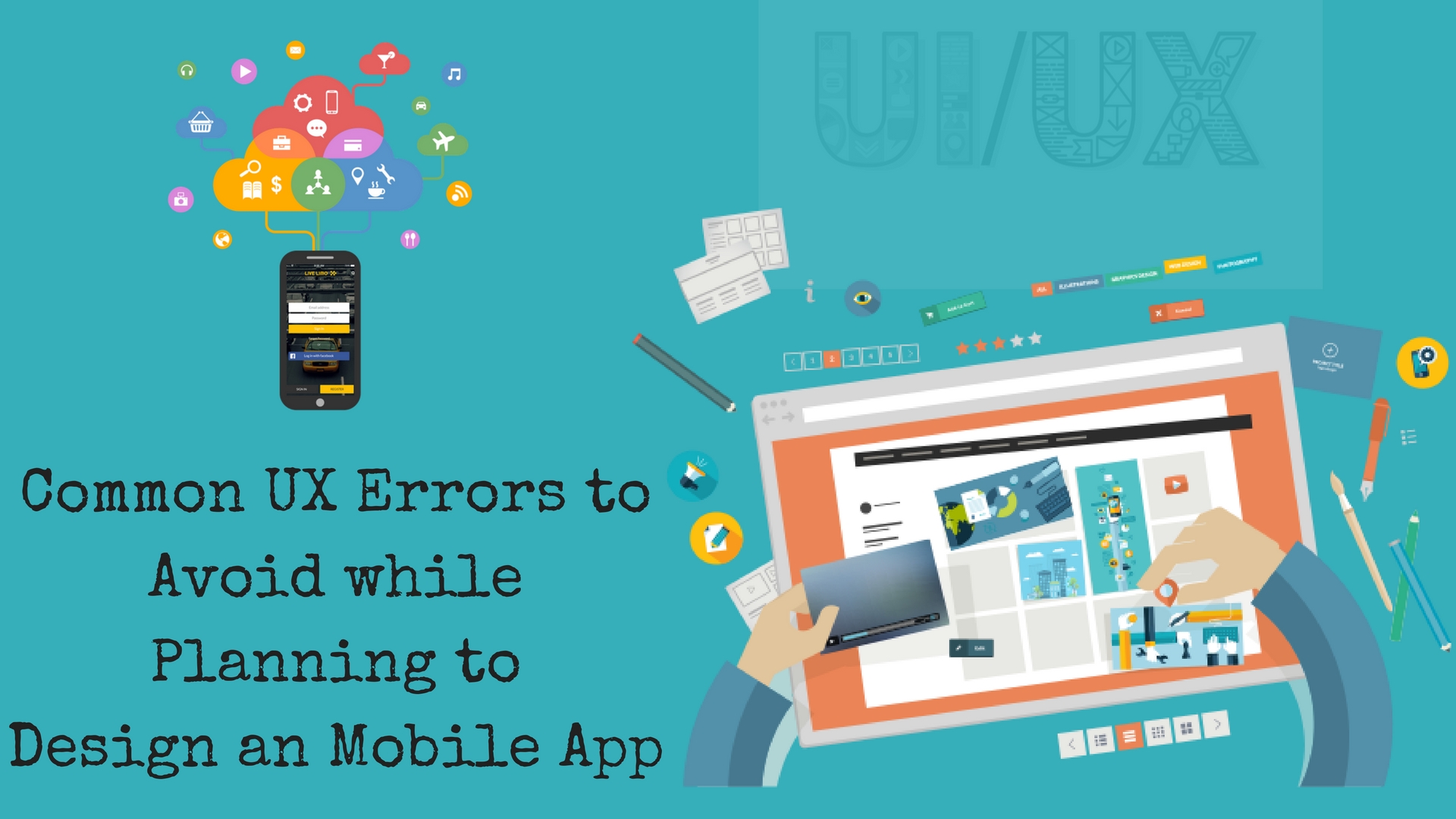 Pitfall No.1:
UX Design Restricted Up To UI Design Stage
In fact, by debunking the myth, I would like to say that the UX designing and improve mobile app usability process begins right from the emergence of app ideas and its conceptualization.
Pitfall No.2:
UX Has Nothing to Do With Target Audience Research Prior To Planning
By debunking this myth, I would like to say that once the concept of app matures, it needs the backing of research and analysis stage. Once you have all data of end-users, their goals, and their requirements to achieve the goals of the target audience, you can draw a path of user journey in your app. It is the point you need to bring UX at the front and run guerrilla UX tests on the app prototypes, as well as user personal developed based on the gathered data.
Pitfall No.3:
UI Design is UX Design and UI Designer Only Responsible for UX Designing
Based on the above process of app idea conceptualization, research, and planning, I can say that UI design stage is not the beginning or an end of UX designing process. Hence, UI designer alone is not responsible for the entire UX design job.
You may also be interested in:  Apple Has Bet on Future by Integrating Core ML and ARKit to iOS Platform
Of course, UI designer lays the foundation of the UX designing at first place, but the entire team including programmers, developers, testing & QA team, and even marketing team has some roles in the UX designing process. In short, the app UX success goes to the cumulative efforts of an entire team of the mobile app development project.
Pitfall No.4:
Competitor Analysis Has No Contribution to UX Designing
Competition analysis reveals so many things, which are attributing to the app success of your competitors, and you can learn a few, which apply to you including UX design strategies and methodologies. A number of competitors when applied app designing and programming practices, which indirectly tells you the prevailing conventions in the app development market and keeping those in your UX designing process, you save your app from falling apart.
Pitfall No.5:
UX for RWD and App Design is the Same Thing
Responsive Web Design (RWD) is for the mobile-friendly websites, which are running on the mobile browsers and solely rely on capacities of browsers. For the website UX design, connectivity constraints are main obstacles to enhance the overall performance. In the case of a native mobile app, UI renders on the native OS with full access of native hardware features while in the case of the hybrid app, it is somewhat limited, and for a web app, it is almost similar to the website at the mercy of the web browsers. Therefore, app UI design and UX design must be carried out by the experts and experienced team with command over the native mobile technologies. For instance, iOS ecosystem is consisting of iOS devices and iOS versions. Whereas, the ecosystem of Android comprising the devices supporting Android OS and versions of Android OS. It implies another thing is that iOS app developers must have flairs in iOS designing and programming tools, APIs for integration, and Apple guidelines to fit UX according to App Store's expectations. The same goes true for the Android. The same understandings of native ecosystem and requirements are essential for the hybrid app developers while crafting the UX for a range of native mobile devices for cross-platform user experiences. If they are not aware of cross-platform nuances, the chances of the failure of a hybrid app go up.
Pitfall No.6:
The App Must Have All Possible Bells & Whistles
It is true the developing a feature-rich app with maximum functionality is a matter of pride for its development team, but what about the end-users who are going to use it throughout the app lifecycle. Unwanted features not welcomed by any user who wishes to accomplish his/her goals through an app interface. Additional features and functions become roadblocks in user experiences by cluttering the UI design with additional UI elements. The additional UI elements and functions divert the attention of end-users. By uncluttering the UI, we do some UX favoring things such as:
Enough white space around the functional UI elements like buttons provides better touch experiences and reduce the interaction glitches.
It improvises the aesthetics of UI on a screen.
It focuses the user attention only on one or limited actions to accomplish a goal of that UI.
It also facilitates users to pay attention to mobile UI even while on the go use-cases when external distractions are maximum.
Pitfall No.7:
UX Testing Should Limited Up To QA Phase of App Development
We used to carry out testing during the QA phase, just after finishing the coding, and after designing the app. It is standard practice in software industry when waterfall like agile development methods implemented. However, for scrum and sprint like methods testing is mandatory in each phase and frequently throughout the entire development cycle. For the sake of bringing the best UX in your app, you must carry out UX tests at minor (Like Guerilla) and major levels to remove the entry of bugs, errors, crashes, and much more UX deteriorating activities in designing and programming phases.
You may also be interested in:  Emerging Trends of Blockchain a Worthy Asset for Mobile App Developers
Pitfall No.8:
Onboarding Is Not Essential
When app development team is designing and developing the app as per the prevailing conventions and standards in the industry, they hardly see any need to go onboarding to provide additional help or tools to ease their app journey and improve UX further. Unfortunately, it is not always true for all levels of users as everybody is not tech-savvy and familiar with all user conventions prevailing in the contemporary market. Therefore, some onboarding help can improve the UX. However, onboarding becomes essential when you have introduced anything unique in the user journey. For instance, off-canvas navigation scheme of a part of app user journey. Tap-based tips, icons, and instantaneous popups are some ideal ways to garner on-time assistant to the app users.
Conclusion:
For the excellent UX design, the involvement of the entire mobile application development team is mandatory. The app must have a simple and intuitive user interface to provide comfortable screen flow and generate positive emotions. The given clues to some common pitfalls may help UX designing community as well as improve the understanding of clients who are striving for quality hence, the user experiences. Of course, the role of veteran UX strategists, methodologists, designers, programmers, and testers are undeniable. Thus, you must run the search for an avid team that can help you in the excellent UX designing and improves the prospects of your app in the market to see better ROI. What do you think about the UX team of mobile app development at SysBunny? Would you like to texts with it?