The rapid digitalization of the world is paving the road for the healthcare system to undergo considerable changes. The rise of wearable technology has a huge hand in the amelioration of the healthcare industry across the planet. The past decade has shaped the modern era of wearable technology in a big way.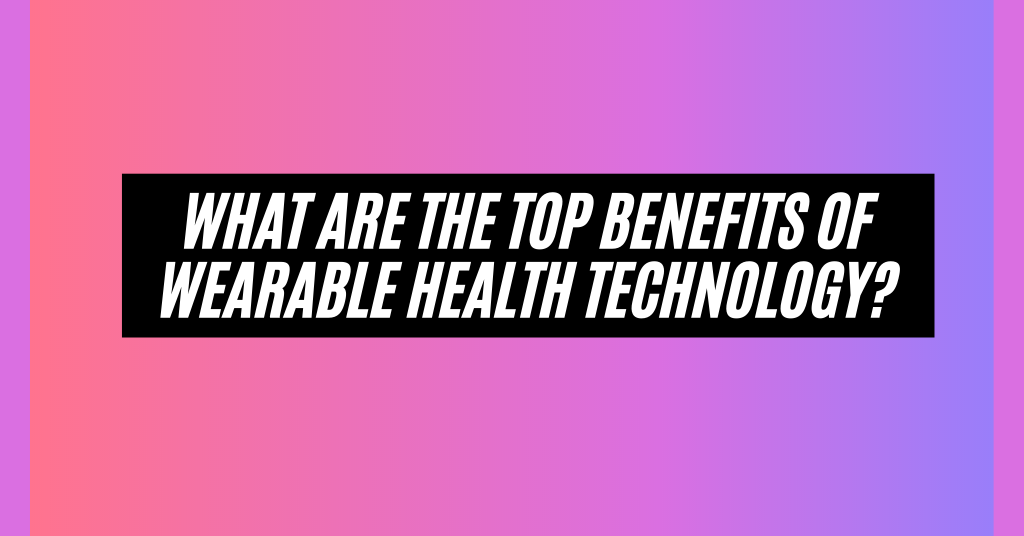 As the healthcare environment turns digital, many rules and regulations are being implemented to ensure the safety and security of patients' data. Wearable technology is not limited to digital communication between the doctor and the patient or electronic medical records (EMR). It has much more to it than that!
How does the basic Wearable Health Technology work?
Wearable app development forms a significant part of general mobile app development. Wearable apps are connected to fitness devices that can anyone can easily don. The devices collect health-related data, and the synced wearable app represents the data in an organized manner with the internet's assistance.
Many fitness brands all across the world are launching new and astounding fitness gadgets and wearable apps. Wearable apps connect with respective fitness gadgets and cooperatively keep track of various health data such as heart rate, calories burnt in unit time, sleeping hours, and pulse rate. The popularity of wearable technology is increasing appreciably amongst people. 
Below are enlisted some significant benefits of wearable health technology:
1. Brings immense convenience for doctors as well as patients
It is more comfortable and relatively convenient for doctors to electronically witness patients' health without the need for physical meetings. Wearable technology is also impacting the way of communication between doctors and patients. Doctors can monitor the patient's health data through wearable apps and get a better view of their problems. Having an elaborate and detailed catalogue of the patient's health helps simplify the doctors' treatment process.   
Not only doctors' but wearable technology has also made the patients' lives easier. It has been almost five years since the launch of Fitbit. They were then only seen as activity tracking devices. However, now the wearable technology has far exceeded its old interpretation of an "activity tracker." Wearable apps and devices together are making patients more conscious of their health.
2. Insights on undetected medical conditions
Wearable technology is also helpful in predicting medical complications, challenging to diagnose without wearable technology. As wearable devices take note of a person's health data, they can help make early predictions of potential chronic diseases. For instance, wearables for heart health are immensely useful in delivering preventive and predictive insights on the heart health of the person wearing them.
3. Makes patients aware and engaged
As wearable technology provides patients the opportunity to monitor their health regularly, they naturally become more conscious of their health. Rather than waiting to see a doctor gather information about their health, patients feel much more comfortable witnessing their health condition on their own.
When people have everyday access to the data related to their health, they are more likely to improve their health. Patients get a sense of control of their health by monitoring themselves.
Wearable apps have made the lives of patients more manageable. Some wearable apps come with tracking calorie intake, giving patients a push towards a healthy diet. Any wearable apps provide the feature of tracking progress to monitor fitness levels.
4. Acts as a great support to the overall healthcare system
Not only doctors and patients, but the whole healthcare system procures benefits from the growing wearable technology.
"According to McKinsey and company, in 2015, annually, an estimated $2 trillion year in healthcare costs globally was attributed to poor health habits." Active usage of wearable technology also saves money in the healthcare system of any nation. It is believed that lack of consistent exercise, addiction to alcohol, drugs, and tobacco, and lack of proper sleep may contribute to 20% of all healthcare costs. Practical usage of wearable technology can encourage people to make healthy life choices like getting proper sleep and eating healthy to minimize the strain on the healthcare system.
5. Multifunctional
The choices of wearable devices and apps in the market are endless. In the huge pool of wearable technology, there is something to tackle the problems of almost all patients. There are wearable bio-sensors available in the market which can detect heartbeat rate and pulse rate. If this does not sound fascinating enough, fitness gadgets can monitor glucose levels in a person's body.
When placed under the skin, the sensor detects body glucose levels and shows them on the connected mobile application. Moreover, wearables are available which claim to improve body posture and regulate body temperature. Wearables also help to detect exposure to UV (Ultraviolet) rays..
6. Provides ease to caregivers
Wearable technology has proved to be a boon for people who need to take care of their vulnerable family members, such as children or senior citizens.
According to PwC's Health Research Institute, there is a significant demand for wearable devices to look after children or senior citizens. Caregiving to children or aging parents can be difficult, but wearable technology usage makes the process easier. The caregiver can easily track the health data and encourage the patient to transform his/her health habits.
Some drawbacks of using Wearable Health Technology tools!
Every innovation has two facades that one needs to know. With the major benefits of wearable health technology enlisted, it is important to enlighten ourselves about its cons. Here are a few drawbacks of using wearable technology.
1. Short battery life
The battery life of advanced wearables like the Apple watch is much lesser than that of simpler wearables like Fitbits. It can often be the cause of hassle for people.
2. Inappropriate data
In the end, wearables are also machines. Hence it is natural for them to malfunction at times. Malfunctioning wearables such as heartbeat trackers can be dangerous. Inappropriate reading can add to patients' worries and increase further health issues.
Adopting the Wonders of Wearable Health Technology!
Wearable technology is the futuristic know-how that is already shifting the dimensions of the healthcare sector. During these times of the COVID-19 pandemic, wearable health technology has enormous connivance in easing health professionals' lives. Backed with robust wearable app development techniques, it will surely bring forth wonders for the human race.
Sysbunny specializes in the art of wearable health technology!
Our company is among the top mobile app development companies that offer wearable app development services at reasonable prices. Launching a wearable app can make a healthcare brand go closer to the pinnacle of success. You will not regret outsourcing your wearable app development to Sysbunny. Your app idea can be the next revolution in wearable health technology.
Bring your wearable app idea to reality with Sysbunny! 
Have an idea?
Are you in need of a wearable app for your enterprise? Entrust Sysbunny with all your wearable app development needs! Contact now!