The usage of mobile devices is increasing leap-and-bound with the advent of technologies and easy reach of high-end gadgets. To capture a vast audience available on mobiles, a competent app is mandatory to have for retailers. We have illustrated some more interesting things in the post that readers may like it all.
Introduction:
Today nearly 60% U.S. consumers have smartphones, and they use it explicitly for any task including shopping. Pure e-commerce, brick-to-click, and other Omnichannel retailers looking high selling prospects among the mobile users. It is thanks to easy access to the Internet as well as apps for native mobile experiences available on mobile/handheld devices.
You Might Also Like: How to Build Android Ecommerce App for Online Mobile Shopping
According to a survey, 40% of total eCommerce visitors leave the eCommerce store web page when it takes more than three seconds to load. It indicates how clumsy to rely solely on e-commerce websites even though which made mobile-friendly using the latest nuts & bolts.
Therefore, the bottom line becomes a native app that 85% shoppers love to hang on it. In other words, retailers need a mobile presence in an elegant, functional, and advanced mobile app development by a team of seasoned mobile app developers.
If you have eliminated the mobile app development idea due to whether the cost involves, time consumption, or not sure of ROI, I would like to say you,
"Stop and think again about the advantages an app can garner to your retail outlet."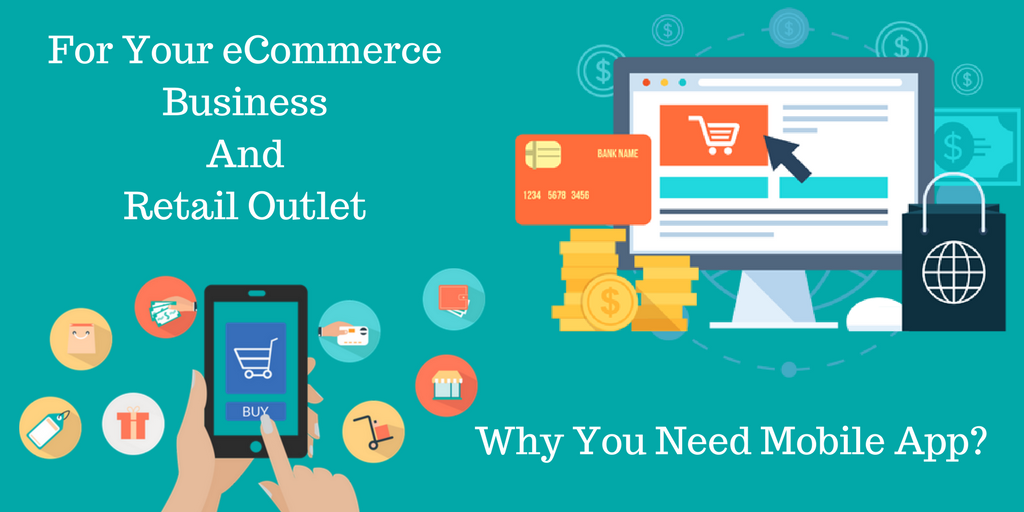 Retailers Always Strive To Drive User Engagement
The following facts are pinpointing that how mobile apps can drive user engagement.
Mobile users are spending their 10% of the mobile time on e-commerce app.
Similarly, they devote 10% of the mobile time on browsing the Internet for varying purposes.
These two facts indicate that the chances of the mobile app are high to grab users and their engagement compared to a mobile-friendly website because users may look for information or wish to entertain by any means. Moreover, push open notification rate in between 50 to 80% in e-commerce niche compared to others. It again guarantees high user engagement through the app if used that feature judiciously.
Retailers Need Apps to Enhance UX
As discussed earlier, compared to a mobile-friendly website, an app garners better user experiences in terms of loading the screen, interactions, and presentation. Highly personalization opportunities are existing far better in an app than a website.
An App Boost SEO Retailer's Website
The latest algorithms of the modern search engines have capabilities of app indexing along with the business website associated with the app. Robots can dive deeper in-app content using deep links. Thus, retailers have additional benefits when they have an eCommerce app besides the eCommerce website.
Types of Mobile Applications for Retailers
We can segment apps for retailers based on their business types, such as:
Grocery Shopping Apps
Supermarket Shopping Apps
Fashion Outlet Shopping Apps
Warehouse Management Apps
You Might Also Like: How to Stay Ahead in Competition in Holiday Season by Building a Mobile App
However, each app types for retail industry has different needs, audience, hence characteristics. For instance, grocery apps require a large database of products and features for shoppers to list their items to buy in advance. Barcode scanner app integration to facilitate POS interaction.

Payment gateway integration with regional providers is essentiality for grocery and other retail outlets. Supermarket app extends features and functionality a bit more and adds something that saves the time of shoppers like direction giving features, Beacon like location-based services, and marketing incentives offering functionality.

Fashion outlets have somewhat different requirements due to different nature of the business. Recent trends towards location and Augmented Reality is adding more flavors to it.

Warehouse management becomes essentiality for manufacturers, distributors, and large eCommerce stores those have to take care of thousands of products through efficient inventory management, order management, dispatch, and shipping/delivery of products in a transparent manner.

Mobile app with some integrations like shipping provider APIs, Map API, shipping calculators, and many other things can help retailers and their customers a lot.
Conclusion:
When a client looking for a reliable, functional, advanced, and cost-effective mobile app solution, a professional, experienced, and seasoned team of an app developer is the first condition to meet the requirements. SysBunny has acquired such talents since long and fostering the creativity to address the modern retail industry looking for Omnichannel presence.
Would you like to talk with seasoned mobile app developers at SysBunny to discuss your queries?